Publish date: 11 August 2022
Northumbria Healthcare reflects on first year of key pledge… and the work still to do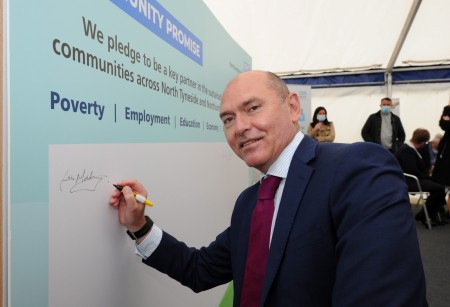 Significant progress has been made so far through Northumbria Healthcare's Community Promise, but trust leaders recognise that there is still plenty more to do.
Launched at the end of June 2021 at a special event at Berwick Infirmary, Our Community Promise is the trust's pledge to focus on all the ways it can improve people's lives, pushing the boundaries of what an NHS trust can be by focusing on how it can have an even larger impact for everyone who lives and works in the area and wider region.
The initiative was developed in the wake of the worrying way in which the Covid-19 pandemic provided a stark reminder of the impact of health inequalities. This is why the Promise is based on six key pillars which relate to the wider factors that fuel health inequalities – poverty, employment, education, economy, environment, wellbeing.
Some of the key steps taken in the past 12 months include:
Ongoing development and expansion of the Manufacturing and Innovation Hub, with more than 200 people now employed on site.
A CSR (corporate and social responsibility) procurement officer has been recruited to take responsibility for our drive to buy more products and services locally.
Two widening participation coordinators have been recruited to engage with schools, colleges and other education institutions to widen access to careers and job opportunities in health and care.
Ongoing work to encourage more ex-armed services personnel to join the NHS through a targeted recruitment programme.
A major project to decarbonise North Tyneside General Hospital is underway. The up-to-£22million scheme should reduce the site's emissions by 80% over a 15-year period.
A partnership with Project Choice has resulted in work experience placements being offering to cohorts of young people with additional support needs.
450 virtual work experience places to showcase work and employment opportunities in the trust to local students alongside 172 on-site open to local schools
The trust is leading on the 'mini scrubs' project to promote health and care careers to primary school children, with packs to be provided to all in Northumberland, North Tyneside, Newcastle and Gateshead in the autumn term 2022.
A machine has been installed which melts down facemasks, curtains, drapes and wraps, all of which are made from single-use polypropylene plastics. The blocks created can then be used to make new products.
Northumbria Healthcare's chief executive, Sir James Mackey, said: "When we launched Our Community Promise, I spoke about how in addition to being a healthcare provider, we are also a major employer, a major buyer and user of products and services, and very conscious of our responsibility for our environment.
"I also said that we had a responsibility do more, which is why it is very pleasing to be able to reflect on some of the progress that has been made and on several key achievements. These are not just things that are 'nice to do' but will help tackle the wider factors that can undermine the health and wellbeing of our communities.
"However, as with everything we do, we will not rest on our laurels as we know there is so much more we can do to have a positive impact as the region – and country – continues to work to recover from the effects from Covid-19."
Our Community Promise has also been recognised nationally, having been awarded the silver award in the Community Commitment – UK category at the International CSR Excellence Awards held in London in May.
---
Media contact
Ben O'Connell, media and communications officer, Northumbria Healthcare
Benjamin.O'Connell@northumbria-healthcare.nhs.ukor 07833 046680.