Our diabetes and endocrine services work together to support you if you are living with type 1 or 2 diabetes or a common endocrine condition such as thyroid disease.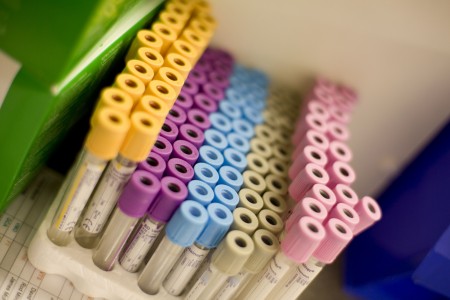 Our specialist team of consultants, nurses, podiatrists, dieticians and clinical psychologists work with you to provide a package that suits your individual needs
With a strong focus on you being able to manage your condition yourself as much as possible, we run programmes to empower you to take control:
Type 1 diabetes
If you have Type 1 diabetes you may benefit from a programme called Dose Adjustment for Normal Eating (DAFNE). This aims to teach you how to flexibly adjust your insulin, to match your food choices to improve your quality of life and control your condition. If you are interested in this a member of our team will talk you through what it will mean for you in terms of commitment and any implications it may have. You will have to attend a course lasting for five days and we run ten courses throughout the year.
For more information about DAFNE contact Sandra Fleming on 0191 293 4169 or email sandra.fleming@northumbria.nhs.uk. You can also look at the National DAFNE website for more information.
Type 2 diabetes
If you have newly diagnosed Type 2 diabetes, a programme called Diabetes Education Self Management Ongoing and Newly Diagnosed (DESMOND) aims to educate patients in Northumberland about their condition, the associated risks and all the options for successfully treating diabetes.
Insulin
Many people with Type 2 diabetes eventually need insulin to control their blood glucose levels. If this is the case with you, our team run sessions which will help you understand how insulin works and give you the confidence to manage your treatment.
Endocrine clinics
If you need treatment for an endocrine condition you can attend one of our clinics at Wansbeck, North Tyneside or Hexham general hospitals, Berwick Infirmary or Morpeth NHS Centre.
Diabetes clinics
Diabetes clinics are held in North Tyneside, Hexham and Wansbeck general hospitals, Alnwick and Berwick infirmaries, Blyth community hospital and Morpeth NHS Centre.
We also run a variety of specialist diabetes clinics regularly at our general hospitals at North Tyneside and Wansbeck. These include type 1 and type 2 diabetes, those for young adults (age 16-25) and diabetes in pregnancy.
Most appointments last about half an hour, sometimes longer if the patient sees more than one healthcare professional.
---
Useful links
DAFNE (Dose Adjustment For Normal Eating)
DESMOND (Diabetes Education and Self Management)
---