Publish date: 16 May 2022
Northumbria Healthcare's new roles underline intent on widening participation
---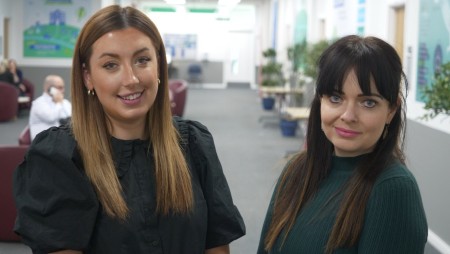 Northumbria Healthcare NHS Foundation Trust has signalled its commitment to reflecting all the communities it serves through new staff focused on providing opportunities for all.
The trust, which runs hospitals and community services in Northumberland and North Tyneside, has recently employed two widening participation coordinators, Alex MacKenzie and Sarah Lamb, whose remit is to engage with communities to promote opportunities within the trust and attract people from all backgrounds into health and care careers.
This includes highlighting all of the non-clinical/medical roles that are available in the NHS, which employs large numbers of people in areas such as domestics, estates and maintenance, catering, education, finance, HR and other administrative roles.
Alex has a range of experience in the NHS, other healthcare organisations and education, including working for various Further Education colleges across the North East as a lecturer supporting students from all different backgrounds.
Sarah's previous roles include as a regional CSR (corporate and social responsibility) manager for a construction company delivering award-winning community engagement projects, and as a careers advisor working in the likes of youth offending institutions, colleges, Jobcentre Plus, training providers and prisons.
The new posts are a concrete example of action being taken by Northumbria Healthcare as part of its Community Promise – a pledge to focus on all the ways it can improve people's lives based on six key pillars, which relate to the wider factors that fuel health inequalities – poverty, employment, education, economy, environment, wellbeing.
Alex said: "The trust's reason for being is to provide high-quality care to the communities we serve and we can do that more easily if our staff reflects those communities.
"It is in our interest as an employer that we are able to attract a wide range of people from different backgrounds and with different skills, and that is what Sarah and I will be focused on as we look to widen participation.
"I'm also the trust's new Armed Forces Champion as I'm passionate about supporting veterans and their families and committed to opening up opportunities for ex-servicemen and women to join us in diverse roles. The trust was previously awarded an Employer Recognition Scheme Gold Award, but I know we can work harder to make service leavers' transition to civilian life as smooth as possible."
Sarah added: "The trust already plays a key role at the heart of our communities, but we know we can do more to support people and have an impact on their lives in more ways than just through the health and care services we provide.
"The focus on education and employment in the Community Promise helps to support our need to have a strong and diverse workforce, but these and the other pillars are also clearly understood to be factors which fuel health inequalities and impact on healthy life expectancy."
The pair's work will build on and support a range of activity already taking place under the umbrella of the Community Promise.
As part of the education pillar, 450 work experience placements have been agreed, links with local authorities are opening up work experience and apprenticeship opportunities to looked-after children, and the trust has signed up to Project Choice to offer internships leading to securing entry level roles for eight young people with additional needs. In addition, a partnership with the Prince's Trust is supporting young people aged 16 to 30 who are not in employment, education or training.
Meanwhile, under the employment pillar, targeted work is taking place to identify and recruit apprentices from underrepresented groups, including those from marginalised communities, to boost the number of apprentices coming from these backgrounds to 30% over the next three years.
Other areas of work taking place with community partners include the Thriving Communities project which aims to harness the power of social prescribing and joint work to support refugees and asylum seekers.
---
Media contact
Ben O'Connell, media and communications officer, Northumbria Healthcare
Benjamin.O'Connell@northumbria-healthcare.nhs.uk or 07833 046680.
---