Services provided at this hospital include; inpatient services for elderly medicine, stoke and orthopaedic rehabilitation and palliative care; a minor injuries unit which is open 24 hours and supported by GPs; extensive outpatient clinics and day hospital services including ambulatory care, diagnostics including x-ray, ultrasound, physiotherapy, occupational therapy, speech and language therapy, podiatry and intermediate care; a midwifery-led maternity unit with single delivery room and birthing pool; pre-assessment and day surgical procedures and an oncology unit where chemotherapy treatments are carried out two days a week.
*Please note that from Monday 9 December 2019, physiotherapy services will be delivered from the maternity unit as part of preparations for the new hospital.
As of Thursday, 30 June, 2022, visiting restrictions have been further eased in our hospitals, although visiting slots must still be booked in advance.
Hourly slots for visitors on all general adult wards are available between 10am and 8pm, with the last visiting slot ending at 8pm, during this hourly slot the patient can have two visitors. Please note that visitors are now interchangeable across each hourly slot and no longer need to be the same nominated person.
Due to the need for enhanced infection prevention measures, visiting will remain restricted on surgical wards, but for patients who have been in hospital for 72 hours or more, one nominated visitor will be permitted to book a slot. Those wishing to visit should check arrangements with the ward.
Patients who are in the emergency department will be able to have one interchangeable visitor with them, but this can be increased if the patient is in a critical condition.
Please don't visit if you are feeling unwell
You must not visit if you are unwell or you have a household/close contact who is currently unwell.
Wash your hands
Please wash your hands at the hospital entrances. There are also hand-sanitising points around the hospital – please feel free to use them. Face coverings are now only required in certain circumstances and ward staff will advise.
We would like to thank all visitors for their support and cooperation at this time.
Berwick infirmary is situated within the town centre of Berwick upon Tweed.
By road
Exit the A1 at the roundabout and follow the A698 Signposted Berwick. Go left at the next main roundabout and follow the signs for the town centre. At the roundabout, take the first exit over the bridge. Turn left at the next main junction and continue along the A1167 for 200 metres. Turn right onto Scott's Place, then turn left onto Brucegate.
By bus
For up to date bus information, please use the Traveline service
By rail
Berwick Infimary is a five minute walk from Berwick railway station. Check Trainline for timetables of all services.
Charges
0-20mins = Free*

20mins-1 hour = £2

1-2 hours = £3

2-3 hours = £4

3-4 hours = £5

24 hours = £6
As it is pay and display, please make sure that you bring change with you and leave plenty of time to find a space.
Disabled Parking
There are designated free parking bays reserved for disabled drivers displaying a valid blue badge permit.
Concessionary car parking
We offer free car parking under certain circumstances for patients or their visitors. This includes those patients attending regularly over an extended period, visitors of long-stay patients and those who are staying in the hospital with patients. This list is not exhaustive and exemptions are issued by the ward or department manager – please speak to them if you think you may qualify.
Electric vehicle charging
This hospital has an electric vehicle charging point which is free to use for patients and visitors.
Car parking violations
Please note that failure to park in a designated bay or failure to pay for parking may result in you being issued with a civil penalty or infringement notice.
Restaurant
There is a restaurant selling food and drinks at the following times:
10am-11am – pre-ordered hot sandwiches
Midday-1.45pm – lunches including main courses, sandwiches and salads
3pm-4pm – hot and cold drinks with pre-ordered hot food available
In between these times you can get cold drinks and snacks.
Wi-Fi
Free Wi-Fi is available in public areas of this hospital – just choose NHS Wi-Fi on your smart device and follow the registration process to gain access.
Northumbria Healthcare NHS Foundation Trust has invested £30 million to build of a state-of-the-art hospital in Berwick-Upon-Tweed.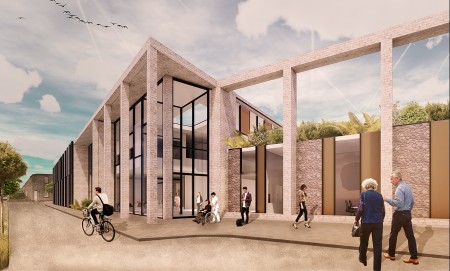 The 21st century hospital will be replacing the old infirmary, and will create 295 full-time equivalent jobs per year during the construction and operational phases, and generate more than £17million to the local economy during the build.
The project is a big part of what the trust's sustainability agenda is about – refreshing the buildings that staff work in so they're suitable for patients and workers, innovate where ever possible and help the local economy regenerate.
Planning permission was approved in December 2020, and since then the project team have continued to work around the clock to move to the build phase.
Following this approval, Anne Marie Trevelyan MP visited the site to mark the start of the demolition process. Sharing the excitement of the trust and residents alike, she said "the hospital…is genuinely going to be transformative not only for Berwick town itself but for the wider community as well to have a modern community hospital." Read more here.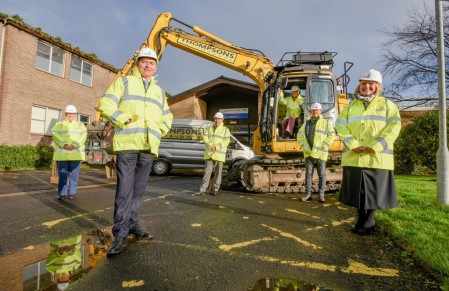 The trust worked in partnership with Northern Archaeological Associates to carry out an archaeological dig at the beginning of the construction project, making some significant finds, some dating back to 1100AD. The hospital site lies within the town walls constructed around 1296, but little is known about life in Berwick before this time.
This site is one of the biggest that archaeologists have had the opportunity to work on in Berwick. Walls, pottery, fish bones and what is thought to be stone yards, associated with Low Greens, have been found. You can read more here.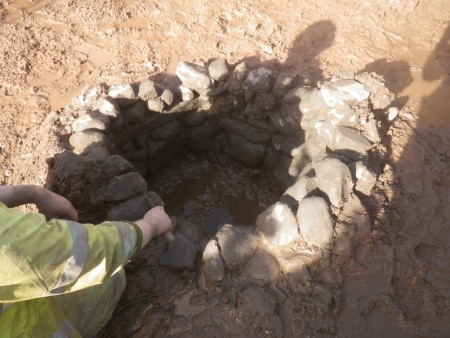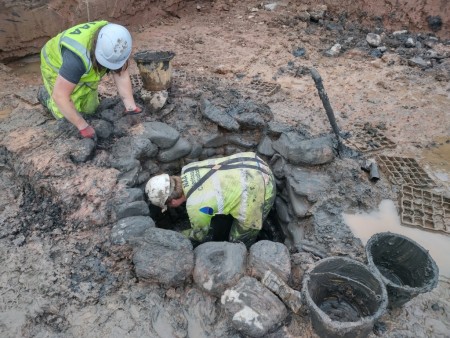 This page will be kept up to date with developments as the build progresses, so it's worth checking in.
You can also sign up to become a trust member here, help to shape your local healthcare services and be kept up to date with trust news.
---