Endoscopy at Northumbria
Here at Northumbria our mission is to provide the best possible experience whilst you are having an endoscopy at one of our six sites. We want this to be as comfortable and reassuring as possible.
We want you to feel at ease in endoscopy at Northumbria. Our wonderful team are always available to provide as much information as you need, so that you fully understand everything that will happen whilst you are in one of our units.
We want to make your experience one of the best in the country by providing great care from our wonderful staff.
People are generally referred in to our service, either by their GP or through specialist consultant referral from the outpatient department.
Here at Northumbria we have endoscopy on six sites:
Wansbeck - read the guide to our unit
North Tyneside - read the guide to our unit
Northumbria Specialist Emergency Care Hospital
Hexham
Alnwick
Berwick (our exciting new hospital which is still under development)
Between all of our sites each unit is slightly different in size and design. However, each unit shares the same equipment, leadership structure and friendly faces. Across our units we also share the same philosophy:
Here at Northumbria in endoscopy, we treat our patients as individuals and acknowledge everybody's rights and needs and by doing this, we will be creating a friendly and safe environment. We also pride ourselves on our impeccable infection control standards here at Northumbria.
Our nursing team believes that good team work and good communication will provide the best possible care for our patients. Our team always want to provide fantastic health education to our patients.
Our nursing team always aim to provide the best possible care to our patients and we believe that by identifying individual psychological, spiritual and social needs as well physical complexities we can support our patients 100% whilst they are accessing our services.
As a service, we always believe that we need to continue our development and look at ways of improving our services for the benefit of others. We do this through education as well professional development and always looking at ways how we can be more sustainable.
The relationship between our staff and our patients needs to be of mutual respect, so we will not tolerate any episodes of verbal or physical abuse, we recognise there are always areas of improvement so we encourage you, the patient, to leave us feedback and you are always welcome to raise concerns you may have, we encourage unity between patients and staff.
This is a very busy nationally accredited department with several endoscopy procedure rooms running at the same time, below is what you can expect to happen when you come for your procedure. Different procedures might need different preparation and this will be explained to you.
When you attend for your appointment you will be greeted by the reception staff who will check your details are correct.
You will be asked to wait in the waiting room until the nurses are ready for you.
A nurse with introduce themselves and invite you to go through the admission documentation in a private room
You will be prepared for you procedure you may need to get changed, but this depends on what procedure you need. You will have your blood pressure and pulse recorded and a consent form signed you will then be shown to a bed area until it is time for your procedure.
You will be taken to a procedure room by the nurse who will be taking care of you, there you will meet the endoscopist and further safety checks will be made before the procedure is carried out.
Once your procedure is completed you will be taken to a recovery area, once you are recovered, you will be given your discharge information in a private room and allowed to go home with a responsible adult if required.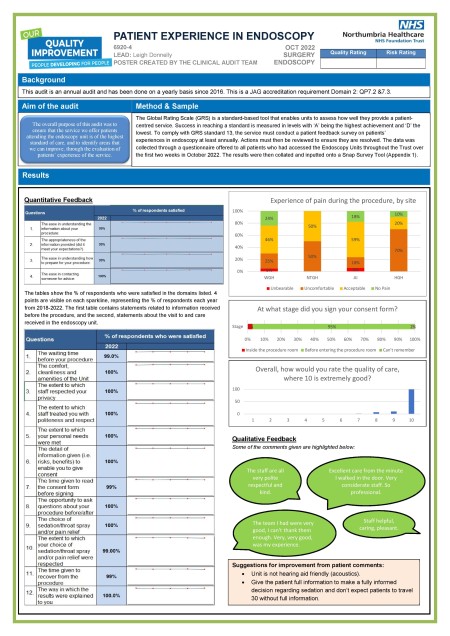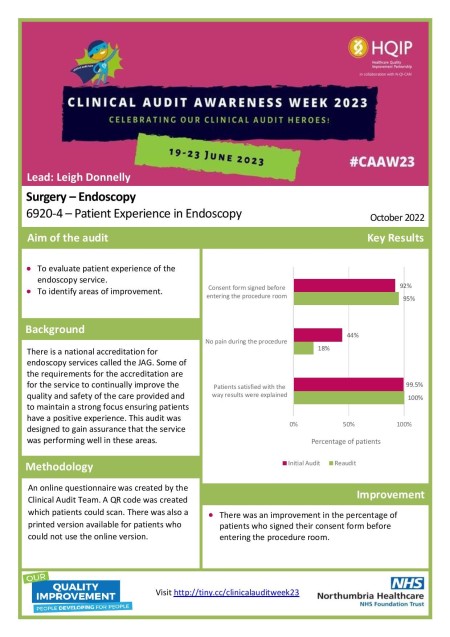 Dr Tom Lee - Endoscopy Clinical Lead/Consultant Gastroenterologist - 0191 2932576
Kiran Kullar – Operational Services Manager – 0191 2394324
Sandra Marshall – Endoscopy Matron - 07554770928
Leigh Donnelly – Education and service development lead - 01670 529309or 07973 761947
Kirsty Harrison - Unit Manager Wansbeck – 01670 529063
Jill Gascoigne – Unit Manager NTGH – 0191 3499671
Paula Clarke - Unit Manager Hexham – 0143 465 5323
Tracey McCann - Unit Manager Alnwick - 01665 626794

---