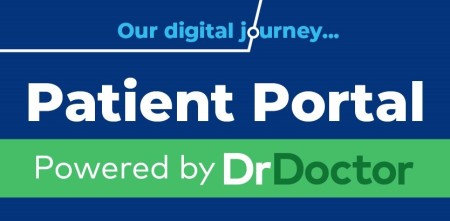 Secure and easy access online to appointments and information
We are working with Dr Doctor, a digital health company, to introduce a new Patient Portal in 2023.
We currently use it to send you text and email outpatient appointment reminders. You can now view digital letters about your appointments and care. You can also book, cancel or change appointments as well as accessing your video consultation appointments via the portal.
Soon we will also be introducing additional features which will allow you to:
Access healthcare information about your treatment
Ask questions
Initiate your follow-up care
The Patient Portal is available from any smartphone, tablet or desktop computer. We've created a list of frequently asked questions below for any queries.
---
Why introduce a Patient Portal?
The Patient Portal will allow us to:
improve how we communicate with our patients
deliver letters to patients faster
reduce confusion from lost letters or letters arriving in the wrong order
save the NHS money by reducing the amount of paper and postage costs
reduce our environmental impact
provide a text reminder to patients before their appointments.
Watch the animation below to find out more.
---
Log on to the patient portal here:
Log in with your surname, date of birth and postcode, and we'll send you a text message with a secure code to access the Portal. If we only have a landline for you, we will send you a voice message with the code.
For more information about DrDoctor, visit their website here.
---
The NHS App
The NHS App allows you to keep track of your vaccinations, order repeat prescriptions, manage GP appointments, get health information and advice, view your NHS Number and access your GP health record securely.
We've recently added the ability to access some of the features in our Patient Portal on the NHS App.
If you are aged 16 or over, you can now view your hospital appointments with us, request to change appointments and join your video consultation appointments through the app.
We'll be adding features to allow you to do more over the next 12 months. If you're a patient at Northumbria Healthcare NHS Foundation Trust then you can seamlessly access all of these features that let you manage your health and wellbeing wherever you are.
To download the NHS App please click here (Apple - Android). For more information, visit NHS Choices here.
---
Frequently asked questions
Anyone over 18 who is receiving care from us can access the Patient Portal. We will send you a text message (07860039092) or email (no-reply@drdoctor.co.uk) with a secure link to the Patient Portal. You can access this on your phone, tablet or computer.
We recommend you use a private email address and phone number to access the Patient Portal.
You login with your surname, date of birth and postcode.
If your contact details have changed, please tell us next time you see us, or contact us on 0344 811 81118.
If you are not able to, or have difficulties accessing the Portal you can give consent to a family member or carer to do this for you. You will need to get their consent and let us know their private email address and telephone/mobile number.
Please contact us on 0344 811 81118.
To enable us to deliver this service, DrDoctor will have access to your contact information but not to detailed information about your health.
DrDoctor is accredited to the highest standards set by the NHS for protecting the healthcare information of UK citizens. For more information, see the https://my.drdoctor.co.uk/privacy
---