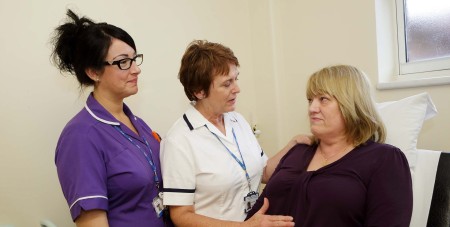 We know that the area of women's health can be sensitive and sometime worrying and we have a specialist team dealing sensitively if you need treatment with any aspect of your reproductive health.
You may come into one of our clinics for a number of reasons, including:
Abnormal bleeding or smears
Emergency gynaecology clinics
Menopause
Suspected gynaecological cancers
Pelvic pain
Urinary problems
Fertility issues
Family completion
Termination of pregnancy
Prolapse
Specialist care can be provided in one of our nurse-led emergency gynaecology clinics for early pregnancy problems. If you need contraceptive advice or other menstrual problems which require semi-urgent help advice we may treat you in this clinic, however another clinic may be more appropriate for you.
If you have symptoms that suggest your problem may be related to cancer at all, you may be asked to come to a rapid access clinic at one of our general hospitals. This allows us to quickly diagnose and manage gynaecological cancers. You should be able to have all the necessary investigations carried out during this clinic.
---
Treatment
If you need to have a procedure or operation it is likely that you will come to one of our general hospitals.
Depending on your diagnosis, there are a number of procedures or treatments we offer that you may have.
These may include:
This procedure allows your consultant to look at your cervix with a microscope. To open the passage of your vagina, a speculum will be inserted, which is the same as your GP or practice nurse uses when taking your smear. The microscope does not go inside you. If treatment is required this can usually be undertaken under local anaesthetic within the clinic. Often this might be at the first visit.
If you have menstrual disorders you may be referred to this clinic where a number of investigations may be carried out in a single appointment. These may include an ultrasound scan of the pelvis, an examination of the uterine cavity (hysteroscopy) and a sample from the lining of the womb. Some treatments can be undertaken or commenced at the first visit, such as the insertion of an intrauterine system called Mirena. If you need to have surgery the options will be discussed with you and may include endometrial ablation, abdominal or vaginal hysterectomy or laparoscopic assisted vaginal hysterectomy.
If gynaecological cancer is suspected, you will be seen at this clinic within two weeks from you being referred. Investigations at the clinic will enable rapid diagnosis and an early treatment plan or reassurance there is no evidence of cancer. If appropriate, the following investigations may be carried out in a single appointment - ultrasound scan of the pelvis, examination of the uterine cavity, blood tests and sampling of the lining of the womb.
If a gynaecological cancer is diagnosed some can be surgically treated at Wansbeck or North Tyneside general hospitals. Our close relationship with Queen Elizabeth Hospital's regional gynaecological oncology centre enable more complex cases to be rapidly seen there and operated on within a short time.
This nurse-led clinic deals with problems of urinary incontinence. You may have already had treatment from our physiotherapists, but if the problem persists the investigations undertaken at this clinic allow a more definitive diagnosis to be made. Medical treatment or referral to physiotherapy can be made from this clinic. If surgery is required, this can often be undertaken as a day case procedure.
This clinic allows the opportunity to discuss your options regarding an unplanned pregnancy. An ultrasound scan is offered to establish how many weeks pregnant you are.
If it is felt that you need further psychological counselling, you will be referred to the women's health psychology team. If termination of pregnancy is the requested outcome, we will arrange this quickly. Surgical procedures are offered up to 12 weeks into pregnancy and medical procedures up to 18 weeks.
If you have had a vaginal prolapse you may be offered surgical treatment. For some women however treatment with a vaginal pessary may either be more appropriate or preferred. A nurse-led clinic is available for replacement of pessaries at Wansbeck, Hexham or North Tyneside general hospitals.
We also have a team of physiotherapists at our general hospitals who specialise in women's health who can help with issues during and after pregnancy or after breast surgery.
Our health psychology team support women and couples who are experiencing emotional difficulties related to pregnancy, childbirth or pregnancy loss, or related to a gynaecological condition.
Find out more about the service here.
---
Video consultations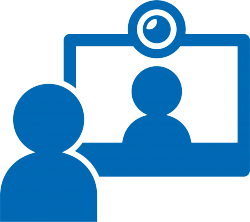 We can offer online consultations where appropriate via a video call to make it easier for you to attend.
Rather than travelling to your appointment, you will receive a text or email before your appointment and simply need to click to join. Find out more here.
---