When you arrive, our staff and hospital volunteers will be happy to direct you to the ward or department you need to go to.
As some of the hospitals are large, our maps should help you see where exactly you need to go for your appointment. You can find this information on each hospital page.
For information on the ward you will be staying on and the visiting times, please select a hospital from our locations page.
If you are staying in one of our hospitals, you will be provided with breakfast, lunch and an evening meal. If you arrive in between meal times you should be offered a snack box, however please don't hesitate to ask ward staff for one. We are able to cater for any special dietary requirements, allergies and religious requirements. If possible, please let us know of these requirements in advance or speak to a member of staff when you arrive.
Most of our hospitals have either a restaurant or a café where you or your visitors can get hot and cold meals, snacks and refreshments. A snack trolley also comes round most wards during the day. Please ask ward staff for more information.
We work hard to ensure our hospitals are as clean as possible. All our public areas including wards, clinics and reception areas are cleaned throughout the day and we carry out weekly inspections of all areas to ensure high standards are maintained. Our cleaners are trained in infection control procedures and our infection control team monitor the wards to check their cleanliness.
However, if you consider that any of our hospitals are not as clean as they could be or you are concerned about cleanliness please contact us. Speak to the ward manager while you are in our care so we can sort out any issues immediately. Or you can contact our Patient Advice and Liaison Service (PALS) free on 0800 032 0202
Sometimes, regrettably, things may not go as planned. Please tell us about any concerns you have – we want to try to resolves any issues straight away for you, and learn from this to improve our services. You should speak to the person in charge of your care straight away so they can help.
We have more information on how to make a complaint here.
We want to provide a safe environment that promotes health and reduces harm from exposure to second hand smoke. All of our sites ,which includes buildings and grounds, are now completely smokefree and we have removed designated smoking areas.
We recognise that smoking is personal choice and we do not discriminate against those who choose to do so. However we ask that you help us keep our buildings and grounds smokefree to protect others. We know that many people are giving up smoking by switching to E cigarettes which are less harmful than smoking tobacco and don't expose others to second hand smoke. The use of e-cigarettes therefore is permitted on our grounds.
If you would like support to quit smoking, please visit our dedicated stop smoking section.
Our chaplaincy team are here to provide confidential comfort and support in difficult times such as living with illness, facing bereavement or life pressures. They are available to people of all faiths or none. They offer bedside communion, prayers and anointing on request and can help put you in touch with faith communities.
Our three general hospitals and The Northumbria hospital have chapels for quiet reflection and prayer. A member of the team is available 24 hours a day in these hospitals, and as soon as they are able to be with you at the community hospitals.
If you would like a chaplain please speak to a member of ward staff.
Our three general hospital sites and The Northumbria hospital have bedside entertainment systems. There may be a charge and these will vary depending on which package you choose and how long you need.
In our community hospitals there are free communal television facilities, payphones and designated places for the use of mobile phones.
Northumberland Hospital Radio (NHR) broadcasts in most of our hospitals though the bedside entertainment system. This is free of charge and you don't need to purchase a viewing card.
The use of mobile phones is allowed in our hospitals, so long as it isn't disrupting other patients.
Your privacy and dignity are very important to us so we ask all patients, relatives and visitors not to take any photographs or film on these premises. If you have any concerns regarding your own privacy please contact a member of staff immediately.
Patients and visitors should also respect the privacy of fellow patients, visitors and our staff when posting on social media and other networking sites.
When you are ready to leave, if possible you should arrange for someone to pick you up and take you home. The ward staff will be able to give you a time you are likely to be discharged.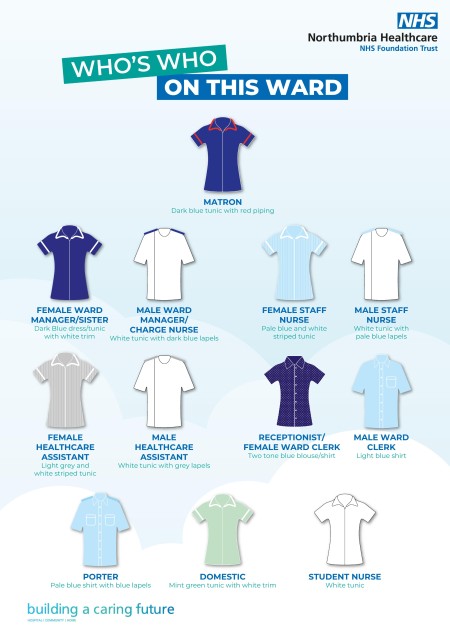 ---
Simple steps to keep you safe during your hospital stay
You may be feeling anxious about being in hospital but keeping you safe and well is a priority for the staff looking after you. There are also some simple things you can do to help keep yourself safe during your hospital stay, such as asking for help when needed, protecting yourself from slips and falls and helping to prevent blood clots.
The 'Simple steps to keep you safe during your hospital stay' video and leaflet provides tips on things you can do to look after your safety during your stay.
---