This pages contains information and links for our D/deaf, deafened and hard of hearing patients.
We employ a D/deaf awareness coordinator within the trust to support staff to provide the best care they can to D/deaf patients as part of our commitment to ensuring all of our communities have the access to healthcare they need without any barriers. We are committed to increasing understanding about the needs of our patients with hearing loss and, importantly, improving the delivery of care to them.
If you are a BSL user then you can contact us through InterpretersLive! if you wish via this link.
If you are attending one of our hospitals, please check with our staff that your notes are up-to-date with any communication needs that you have. If your mobile phone number is registered with us then you should receive your appointment reminders via text message.
For our Deaf patients, we do offer face-to-face appointments automatically, rather than virtually or by telephone, and we will book BSL interpretation for your planned appointment or procedure.
If an interpreter cannot be booked or fails to turn up, we have access to remote video BSL interpretation on all our computers. We also have dedicated mobile laptops for remote video BSL interpretation in our outpatient departments at Hexham, Wansbeck and North Tyneside hospitals as well as in the emergency department and ambulatory care at the Northumbria Specialist Emergency Care Hospital.
For our hard of hearing patients, please let a member of staff know if they need to speak clearly for you or if you need to lip-read.
If you wear hearing aids, please put the T switch on so that you can use the hearing loops at our reception desks and in some clinical areas. If you are coming into hospital, please remember to bring in your hearing aids, spare batteries and spare tubing.
We welcome your feedback on anything which we can do to support patients who are D/deaf or hard of hearing. You can contact us via various methods of communication.
Thanks to the D/deaf awareness project funded through our Bright charity, we have D/deaf awareness cards available for patients to use.
For more information, contact brightcharity@northumbria-healthcare.nhs.uk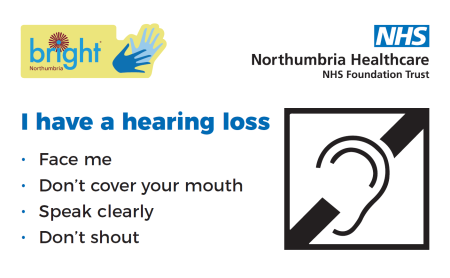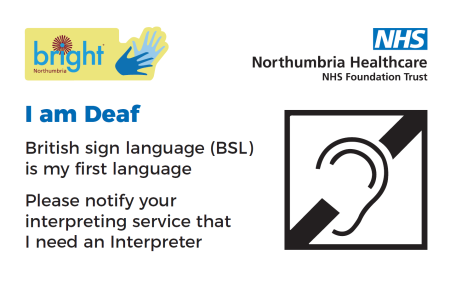 Support and community groups:
Name of organisation

Website & postal address

Email & phone contacts

Northumberland and District Deaf Club


Cramlington Working Men's Club,

Park View,

Cramlington,

Northumberland,

NE23 6QJ


Email: secretarynddc@aol.com
Facebook: Northumberland And District Deaf Club

Deaf Awareness North East




The Linskill Centre
Linskill Terrace
North Shields
NE30 2AY

Email: info@deafawarenessne.org.uk

Tel: Call the organiser: 07734 176 196

Deaflink

4 Glendale Terrace

Newcastle upon Tyne

NE6 1PB

admin@deaflink.org.uk heidi@deaflink.org.uk

Minicom/Phone:0191 281 2314

SMS/Text only:07897 329 359

Fax:0191 212 0300

Skype: deaflink.deaflink

Moblie:07515 450 786

Glide:07515 450 786

Tynemouth Sign Language Social

The Salutation Inn,

63 Front St,

Tynemouth

Deaf and Sign Social, Whitley Bay

Whitley Bay Big Local,

158 Whitley Road,

NE26 2LY

andy.craigie@whitleybaybiglocal.org

Tel: 0191 2523570

Deaf Community Monthly, North Shields

Christ Church Parish Centre,

Preston Rd,

North Shields,

NE29 0LW

Sign it Hear CIC

Café Nero – St Mary's Place,

Newcastle

info@signithear.com

Hard of Hearing Organisation

(HOHO)

Judith & Gerry Daniel,

92 Solway Avenue,

NE30 3BA

Email: judger.daniel@virginmedia.com

Tel:0191 252 3807

Northumbria Deaf Church/Mission

St Andrew's Church,

Newgate Street,

Newcastle Upon Tyne NE1 5SS

http://www.ndm.org.uk/contact-email.php#:~:text=Send%20an%20Email-,Email%C2%A0%20NDM,-Name%3A

Email: northumbria_dm@btopenworld.com

Tel:0191 221 0444

Fax:0191 221 0444

Becoming Visible

https://becomingvisible.co.uk/

4th Floor Mea House,

Ellison Place,

Newcastle Upon Tyne

NE1 8XS

Tel: 0191 233 0999/0777 581 1150

Fax: 0191 233 1334

Newcastle Deaf Centre

http://www.newcastledeafcentre.org.uk/

2, Summerhill Grove,
Summerhill Square,
Newcastle upon Tyne,
NE4 6EE

newcastle.deafcentre@rcdhn.org.uk

Voice/Fax: 0191 232 4104

Barry Siddons 07833 432 044

Sign Naturally

https://www.sign-naturally.co.uk/

St Andrew's Church Hall,

Newgate St,

Newcastle

enquiries@sign-naturally.co.uk

Text077 9258 8739

Hexham and Newcastle Diocesan Deaf Service

http://www.newcastledeafcentre.org.uk/Profile%20of%20HND%20Deaf%20Service.pdf

Catholic Deaf Service North East
2 Summerhill Grove
Newcastle up on Tyne
NE23 7LG

Mobile phone: (Text only) 07411 449 959
Email: davidmarshall888@icloud.com

RNID

Email: information@rnid.org.uk

Tel:0808 808 0123
---
Simple steps to keep you safe during your hospital stay
You may be feeling anxious about being in hospital but keeping you safe and well is a priority for the staff looking after you. There are also some simple things you can do to help keep yourself safe during your hospital stay, such as asking for help when needed, protecting yourself from slips and falls and helping to prevent blood clots.
---