As of Thursday, 30 June, 2022, visiting restrictions have been further eased in our hospitals, although visiting slots must still be booked in advance.
Hourly slots for visitors on all general adult wards are available between 10am and 8pm, with the last visiting slot ending at 8pm, during this hourly slot the patient can have two visitors. Please note that visitors are now interchangeable across each hourly slot and no longer need to be the same nominated person. Please contact the ward to book your slot.
Due to the need for enhanced infection prevention measures, visiting will remain restricted on surgical wards, but for patients who have been in hospital for 72 hours or more, one nominated visitor will be permitted to book a slot. Those wishing to visit should check arrangements with the ward.
Patients who are in the emergency department will be able to have one interchangeable visitor with them, but this can be increased if the patient is in a critical condition.
Please don't visit if you are feeling unwell
You must not visit if you are unwell or you have a household/close contact who is currently unwell.
Wash your hands
Please wash your hands at the hospital entrances. There are also hand-sanitising points around the hospital – please feel free to use them. Face coverings are now only required in certain circumstances and ward staff will advise.
We would like to thank all visitors for their support and cooperation at this time.
Nutrition plays an important part in patient care and our wards have protected mealtimes to ensure patients are not interrupted during their meal.
Visitors are generally not allowed during this time, however if a patient needs help with their meal we do encourage relatives or carers to come in and help out if they wish – please talk to the ward staff.
We do ask that visitors don't bring flowers into the hospitals. Although flowers look lovely they do collect dust and can harbour germs in the water and soil.
Please help us keep the wards as clean as possible.
Children under the age of 12 would not usually visit hospital wards, please speak to ward staff for advice.
The infection control team and all staff are responsible for helping reduce and prevent the spread of infections, but everyone can help, including visitors.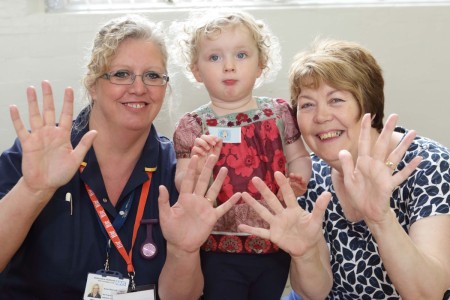 Please help us and our vulnerable patients by following our simple advice:
Wash your hands and use alcohol gel before entering and leaving the ward
Do not sit on patients' beds
Do not use patient toilets
Do not visit if you are unwell or have an infection, for example a heavy cold or diarrhoea
All of our sites are now completely smokefree. This means that smoking is not permitted on any of our sites including all buildings, grounds and vehicles. E-cigarettes are permitted on our grounds but not inside of our buildings. For the comfort of others we ask that you please use e-cigarettes away from our main entrances. For more information please click here.
---