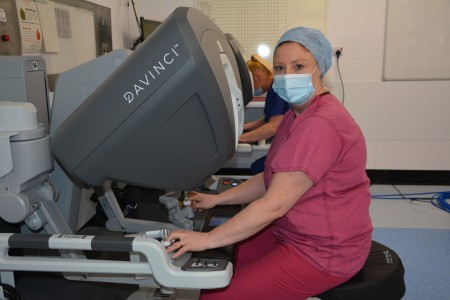 Robotic-assisted surgery
New technology to support your operation is developing all the time and at Northumbria we're using the very latest equipment to make surgery as straightforward and comfortable as possible for patients.
We've invested almost £4m in two new surgical robots that will help our clinical teams ensure your operations are safe, accurate and less invasive.
Traditionally you may think of surgeons using instruments to carry out operations through incisions on the body in what is called 'open surgery' but new technology has really moved on with many procedures now using much less invasive techniques.
Laparoscopic and robotic-assisted surgery uses new equipment to make much smaller cuts and special instruments controlled by professionals to carry out a number of different operations.
Surgeons use things like 3D vision and other special instruments on the surgical robot for even great accuracy during surgery.
These techniques offer some key advantages over conventional surgery and have proved to be less invasive with less blood loss and pain for patients. They are also more consistent and lower risk for a range of hospital procedures.
By using surgical robots, surgeons can offer the benefits of minimally invasive surgery to more patients for a wider range of conditions. This means a shorter stay in hospital, with less pain and quicker recovery after surgery.
This equipment is currently available at Cramlington and North Tyneside hospitals for use by the Gynaecology, Upper GI and Colorectal surgical teams.
If you have any worries, concerns or questions about this please discuss it with your clinical team or doctor.
You can find out more about surgical assisted surgery from the manufacturer of the equipment here.
---
---