Sometimes symptoms or test results may not tell us that one specific problem exists (such as with your heart, lungs or bowel). In these cases you may be referred to one of our general medicine clinics. Similarly if you have a number of separate conditions which it may be beneficial for one consultant to look at together we may see you in general medicine.
Some of the common problems we see at this clinic include sweating, weight loss, tiredness/lethargy, dizziness, abnormal blood tests (such as some anaemias).
If we consider that it would be better for you to be seen by another service we will contact you to let you know, and will organise this for you. For example, patients we suspect of having chronic fatigue syndrome are best assessed by the specialist regional service based in Newcastle.
At your appointment you will be seen by a consultant physician or member of their medical team. You will have may have a consultation, physical examination and basic investigations such as blood tests, a heart tracing and an x-ray if necessary. We may need to organise other tests for you at a later date.
We hold weekly clinics at Blyth, North Tyneside and Hexham hospitals.
---
Online Consultation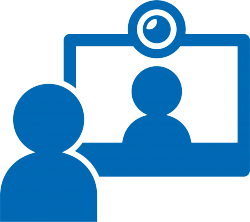 Where appropriate you may be asked to attend a consultation online via a video call.
Rather than travelling to your appointment, you go into the clinic's online 'waiting area'. We will be notified when you arrive and your clinician will join you when ready
You don't need to set up an account and no information you enter is stored.
If you have been given an online appointment please click on the following link to start the consultation at your appointment time - online consultation
---