Publish date: 22 December 2022
Northumbria Healthcare lands clinical sustainability award for second year in a row
An ongoing commitment to doing things differently in its hospitals has resulted in another environmental award for Northumbria Healthcare NHS Foundation Trust.
On Tuesday, December 6, the trust won the
Clinical category at the virtual Sustainability Partnership Awards for the second year running.
The prize is for the introduction of Coolsticks to Northumbria to replace ethyl chloride sprays used in assessment of regional anaesthesia. They are widely used in operating theatres and labour wards to test how epidurals and local anaesthetics are affecting patients' sensory responses.
Each can of ethyl chloride spray has a short lifespan and when empty may not be recycled. It contains chloroethane gas, which remains in the atmosphere for up to two months, and is manufactured in the Czech Republic before travelling more than 1,800 km to get to the trust's hospitals in Northumberland and North Tyneside.
The solution is an innovative Coolstick manufactured in the UK by Theophany Ltd – these stainless steel wands were developed following a successful trial at Royal Bournemouth Hospital in 2019. They are stored in a standard fridge to keep cool.
Coolsticks are reusable so reduce waste and as well as being more environmentally friendly, they also save money for the trust – annual costs dropped by more than £10,000 and carbon emissions were reduced thousands of times over.
The award submission was made by a team from the anaesthetics department - specialty doctor Zoe Robertson, teaching fellow Joshua Craig and consultant Elaine Winkley.
Dr Winkley, who is also Northumbria Healthcare's clinical lead for sustainability, said: "We're really pleased to have won this award and hope it encourages other trusts to think about switching.
"Everyone here has taken on board the many environmental, patient and cost benefits of introducing Coolsticks. An initial trial saw no negative feedback from staff or patients.
"Finding new innovative products which support excellent clinical care, without a detrimental impact on the environment, is key to the NHS reaching net zero."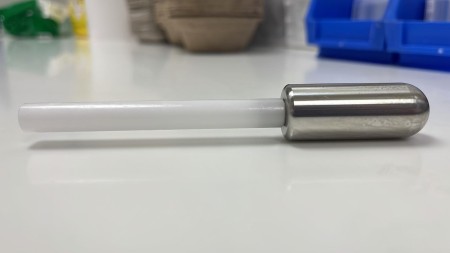 This award came just a fortnight after the trust and NHS Fleet Solutions, its salary-sacrifice lease car scheme for the public sector, each collected an International Green Apple Environment Award for their efforts to reduce their environmental impact.
Northumbria Healthcare is committed to reaching net zero for emissions within the trust's direct control by 2040, then becoming carbon-neutral for indirect emissions by 2045.
Its efforts on sustainability and reducing carbon emissions are not new, but the trust refreshed its commitment in 2021 with the launch of Our Community Promise, which has Action on Environment as one of its six key pillars.
---
Media contact
Ben O'Connell, media and communications officer, Northumbria Healthcare
Benjamin.O'Connell@northumbria-healthcare.nhs.ukor 07833 046680.