Publish date: 22 September 2022
Double awards success for Northumbria Healthcare's environmental efforts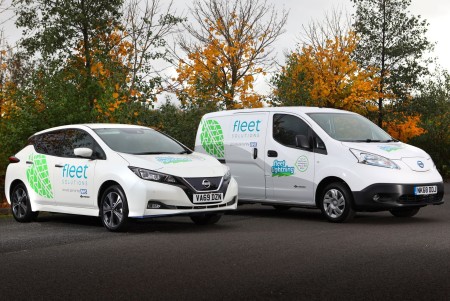 Northumbria Healthcare NHS Foundation Trust and one of its commercial arms have both been successful in landing an international prize for sustainability.
The trust and NHS Fleet Solutions, its salary-sacrifice lease car scheme for the public sector, have each won an International Green Apple Environment Award for their efforts to reduce their environmental impact.
Northumbria Healthcare is committed to reaching net zero for emissions within the trust's direct control by 2040, then becoming carbon-neutral for indirect emissions by 2045.
Its efforts on sustainability and reducing carbon emissions are not new, but the trust refreshed its commitment in 2021 with the launch of Our Community Promise, which has Action on Environment as one of its six key pillars.
Despite the difficulties being faced across the NHS at that time, the new pledge underlined that Northumbria Healthcare is fully aware of the need to address the major challenge of climate change.
The trust's Green Plan has key delivery areas, which each have clear and measurable carbon reduction targets: Estates and facilities; Travel and transport; Waste; Procurement; Communication.
Kelly Crews, head of sustainability at Northumbria Healthcare, said: "The NHS as a whole is a significant contributor to the country's carbon footprint and we are well aware that we all need to act to reduce our impact and protect the environment, which also has a knock-on effect on people's health and wellbeing.
"Alongside innovations taking place across clinical practice, recent significant steps we have taken include our new sterilisation facility at the Northumbria hospital site in Cramlington, a carbon-neutral development which has replaced two old and inefficient units, as well as our ongoing scheme to decarbonise North Tyneside General Hospital, which will see a reduction in emissions of up to 80% over 15 years.
"There is plenty more work to do to meet our ambitions, but this award is recognition of the hard work that is already taking place as well as reassurance that we are on the right track."
Meanwhile, NHS Fleet Solutions works with around 40% of the UK's NHS trusts and other public-sector organisations, such as councils, police forces and universities, and therefore can play a large role in reducing carbon emissions through the increased use of electric cars.
In 2021, almost 10,000 electric vehicles were registered through Fleet Solutions, which at the time represented around one in 20 of all the electric vehicles registered in the country that year. This is alongside the 79 charging points that have been installed across Northumbria Healthcare's sites.
In addition, recognising that one of the barriers for people going electric is concern around range and charging options, Fleet Solutions also offers users the chance to have a home charging point installed.
David Hanson, managing director of NHS Fleet Solutions, said: "Our goal is to ensure NHS and other public-sector staff have affordable access to cars for their work and personal lives. However, we are also very conscious of the environmental impact of petrol and diesel vehicles, so we have been working to boost electric vehicle take-up through a range of initiatives.
"We now have more than 20,000 electric vehicles in our fleet and 72% of all orders during the past 12 months have been for fully electric vehicles, and we want to continue to grow that figure further."
The Green Apple Awards are run by The Green Organisation - an international, independent, non-profit, non-political environment group that began in 1994 to recognise, reward and promote environmental best practice around the world. A presentation ceremony will take place at the Houses of Parliament on Monday, November 21.