Our Occupational Therapy specialist services team works with a wide variety of conditions, these can include the following, but are not limited to Falls, Stroke, Rheumatology, Parkinson's, Motor Neurone disease and Neurological splinting.
Occupational Therapy within specialist services encompasses the key elements relating to patient centred care including, assessment, problem solving and activity analysis.
They also consider the physical and social psychological impact of the disease process – e.g. normal movement against abnormal function due to the nature of the condition and presentation (e.g. Stroke).
This allows more individual focused interventions and treatment/rehab programmes for patients referred to the service
The individual services are accessible via a number of routes including consultant referral, GP services or self-referral.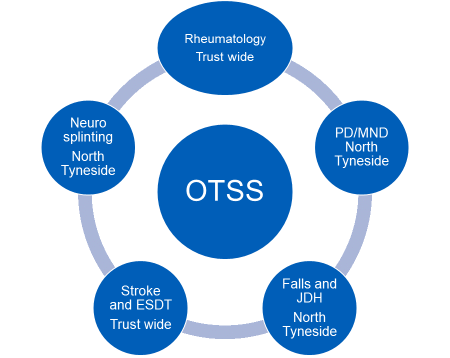 The service can be contacted via the main telephone number: 0191 2932773
Barbara Kemp
OT Professional and Clinical Lead for Adult Health
E-mail:barbara.kemp@nhct.nhs.uk

Andrew Ridley
Occupational Therapy Clinical Manager
Occupational Therapy Services
E-mail:andrew.ridley@nhct.nhs.uk

Northumbria Healthcare
Occupational Therapy Department
North Tyneside General Hospital
Rake Lane
North Shields
Tyne and Wear
NE29 8NH