Whatever the reason you come to us, you will receive all the support that you need when you are under our care.
We may see you in our service for lots of reasons – we look after patients with movement disorders or tremors and there are many reasons people develop these, Parkinson's disease is only one of them.
We have Parkinson's nurse specialists who work alongside our specialist consultants and provide physical, psychological, social and spiritual support to patients.
You may be seen by one of our nurse specialists when you are referred to us and they will see you in a clinic to carry out an initial assessment. Your nurse will be your named contact for advice and support.
You will then see one of our doctors at the clinic of your choice. Once you have been assessed we may need to arrange for further investigations or tests before we can give you an accurate diagnosis.
If you are diagnosed with Parkinson's, you will receive lots of ongoing support, advice and information from the team. Your consultant, or one of their team, will see you for regular appointments. You will also be given a telephone support number and be able to attend a Parkinson's nurse-led clinic or receive a home visit if you have difficulties getting to the hospital. Your nurse can give you lots of information about your symptoms and treatment so please ask if you are unsure about anything.
You may also be seen by other healthcare professionals such as physiotherapists, occupational therapists and speech and language therapists.
We hold clinics or both patients we are seeing for the first time and having ongoing care. These are held in our three general hospitals and in most of our community hospitals, as well as Ponteland Medical Practice and Haltwhistle Health Centre. You can come to the clinic nearest to where you live.
---
Treatment
Your treatment will depend on your diagnosis and we will discuss treatment options with you. For each medication we will go through potential benefits and side effects so you understand what you can expect from any treatments.
---
Your appointment
You may find it useful to write down some questions you want the consultant to answer and take these in with you. We encourage you to bring your partner or a family member along with you to the appointment.
---
Patient support groups
You may find a support group run by Parkinson's UK useful – your nurse will be able to provide you with contact details.
---
Useful links
---
Contact
If you have a question or concern please contact the central Parkinson's office on 0191 293 4167, Monday to Friday between 9am-5pm.
There is a nurse on call for part of each day who will be able to answer any question or query you may have or you will be able to leave a message for your named Parkinson's nurse. If no one is in the office please leave your name, telephone number and a short message on the answering machine and a nurse will call you back.
---
Video consultations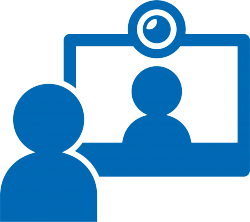 We can offer online consultations where appropriate via a video call to make it easier for you to attend.
Rather than travelling to your appointment, you will receive a text or email before your appointment and simply need to click to join. Find out more here.
---