If you are suffering from falls, dizziness or blackouts or fainting we may see you in our falls and syncope service.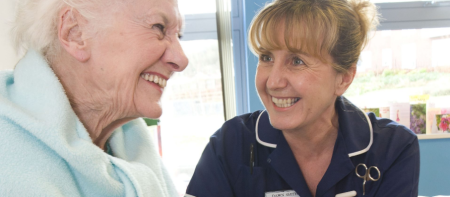 We'll see you in either an outpatient clinic or day hospital unit and when you attend will be seen by a named consultant or a member of the falls team.
The assessment you have will include a physical examination and we'll also need to weigh you and take your medical history. We may also need to take blood samples during this appointment and organise any further diagnostic tests you might need.
There are some tests that we will need to carry out which include lying and standing blood pressure checks. An ECG will be performed (this is where electrodes are attached to your chest and limbs and a tracing of your heart's activity is recorded). Some more information on these tests is given below so you know what to expect:
---
Tilt table
We may carry out some special blood pressure tests in our tilt room. You will lie on a special bed called a tilt table which is a bed that moves very slowly up and forwards until you are in an upright position. There is a foot rest to rest your feet on and a table to lean on whilst in this position. You will stand like this for a period of time while we look at your blood pressure and heart rate using a machine called a taskforce monitor. This has a cuff which fits around your fingers and gives a continuous blood pressure reading. You will feel the cuff inflating and deflating during the test. You will also have leads attached to your chest to monitor the activity of your heart throughout the test.
During these tests we will try to reproduce the symptoms that you experienced during your episodes, so you may feel dizzy or unwell afterwards.
---
Ambulatory monitoring
Other tests may be arranged at a later date which include ambulatory monitoring. This is where you'll be fitted with ECG and/or blood pressure monitor and then go home to resume your usual activities. You return to hospital the following day and have them removed. This allows us to monitor your heart and blood pressure over 24 hours without the need for you to stay in hospital.
---
Preparing for your appointment
There are a few things you should be aware of before you come to this appointment:
Try to wear loose clothing, as we have to attach a cuff to your upper arm and attach leads to your chest.
We get very accurate readings if your hands are warm, so in winter it is helpful if you can wear gloves to attend your appointment.
It is important that you do not drive home from this clinic, so make other arrangements for your return journey.
Don't drink tea or coffee on the morning of the appointment, but do drink other non-caffeinated fluids and have breakfast.
Please bring an up to date list of your medications and doses.
It is not necessary to bring a urine sample with you to this appointment, unless otherwise stated by your GP / consultant.
If you wear glasses and use any walking aids please bring them with you to your appointment.
---
Video consultations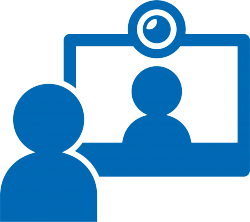 We can offer online consultations where appropriate via a video call to make it easier for you to attend.
Rather than travelling to your appointment, you will receive a text or email before your appointment and simply need to click to join. Find out more here.
---