Publish date: 1 April 2021
Unearthing Berwick-upon-Tweed's medieval past
---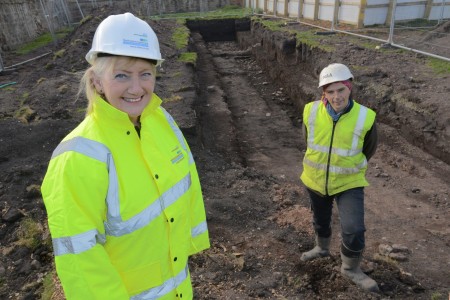 An archaeological dig being done as part of a major construction project in a Northumberland town has made significant finds, some dating back to 1100AD.
Northumbria Healthcare NHS Foundation Trust is working in partnership with Northern Archaeological Associates as part of its project to build a new £30 million state-of-the-art hospital in Berwick-upon-Tweed.
The hospital site lies within the town walls constructed around 1296, but little is known about life in Berwick before this time.
Archaeologists, who are still in the very early stages of the excavation work, will hopefully unveil more about the town's medieval past and give an insight into what day-to-day life on the site of the hospital was like more than 900 years ago.
This site is one of the biggest that archaeologists have had the opportunity to work on in Berwick. So far, walls, pottery, fish bones and what is thought to be stone yards, associated with Low Greens, have been found.
Sir James Mackey, Northumbria Healthcare NHS Foundation Trust's CEO, said: "It is fantastic that as part of an innovative project which is going to transform how we deliver healthcare in Berwick for both current and future generations, we also have the opportunity to unlock precious insight into what lies beneath our hospital site. It is a real privilege to be able to give those who live in or are from Berwick the opportunity to learn more about their history, heritage and ancestors."
All work is being done in a way to ensure that, wherever possible, what lays beneath is protected. If any structures have to be removed, this will be done carefully. Findings are being recorded and analysed to ensure as much information and insight is captured as possible.
Steve Collison, lead archaeologist from Northern Archaeological Associates, said: "It is fantastic to be working with Northumbria Healthcare on this project. From what we have found so far, we are hoping that we are going to be able to learn much more about medieval life in Berwick. Our trenches are strategically placed as to where we think the archaeological remains and artefacts are most likely to have survived.
"The fish bones tell a story of a cottage industry and smoking and selling fish and speaking to the matron at Berwick Infirmary, her grandma's family who lived on Low Greens, used to smoke fish in their garden. So already, there are links between medieval and modern-day life. It is very special to be able to contribute to telling the story of Berwick's past."
This archaeological work, which needs to be done carefully and methodically, will result in the project taking longer than initially anticipated. It is difficult to be more specific around timescales as further excavation work that is done over the coming days and weeks will determine this.
Executive director Marion Dickson, who is leading the Berwick redevelopment project for the trust: "It is quite incredible that our new hospital, which looks to the future in terms of the use of the latest technology and healthcare practices, is going to be built of the solid foundations of such a rich and interesting past. As a Berwick resident myself, I find this incredibly exciting and know what it will mean for people to be able to discover more about our town and those that lived before us.
"We appreciate that people may be disappointed about the timescale of our hospital build being affected, but as a responsible organisation, it is really important that we continue to work with our archaeology team and support them to do what they need to as part of this very important work.
"We will of course keep people updated regularly, in terms of the progress of the project and in relation to any services that we may have to temporarily relocate to other hospitals to ensure we protect the health and wellbeing of patients in our care and our staff. Services affected will include oncology and some ambulatory care. If you are affected, please be assured we will be in touch with you."
The trust has set up and secured the hospital site compound and the buildings that used to house the general day ward, the day hospital, theatres and physio department are being cleared out. These buildings will be the first to be demolished. This work is due to begin by the end of April.