Publish date: 10 May 2023
Surgical technology supporting more patients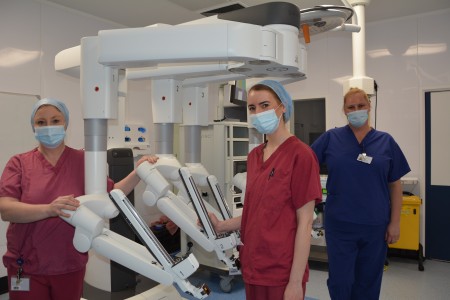 More than 670 patients have benefited from faster, lower risk procedures since the arrival of ultra-modern robotic surgery at Northumbria Healthcare.
In 2021 the trust started using surgical robots at hospitals in Northumberland and North Tyneside for the very first time, investing more than £3.7m in these exciting new services.
Since then surgeons have completed around 170 colorectal, 327 gynaecological and 173 upper gastrointestinal procedures using the new equipment.
Surgical robots offer some key advantages over conventional surgery and have proved to be less invasive, more consistent and precise with a lower risk for a range of procedures.
By using surgical robots, surgeons can offer much less invasive surgery to more patients, for a wider range of conditions. This means a shorter stay in hospital, with less pain and a faster recovery after their operation.
Surgeons use the 3D vision and special instruments on the surgical robot to have an even greater accuracy of dissection during operations.
In traditional open surgery clinicians operate with handheld instruments through a large incision, but increasingly it's possible to carry out many operations by making just a few small cuts and then inserting specialist equipment.
Robotic-assisted surgery is much less invasive for patients because it helps surgeons be more accurate and consistent while operating. This technology allows the surgeon to use a special console in the operating theatre that provides an ultra-clear and magnified view while operating tiny instruments that have greater mobility than the human hand with even more precision.
Northumbria Healthcare now has two DaVinci Xi surgical robots at hospitals in North Tyneside and Cramlington that enable surgeons to use the best technology for the benefit of patients.
Lena Ngu, a colorectal surgeon at Northumbria said "We are really proud to be able to offer our patients minimally invasive surgery with world class technology in the form of this advanced robotic platform. It's a credit to all members of the team that we have been able to develop the robotic program across different specialities and have performed a large number of procedures safely with good patient outcomes and reduced length of stay for people in Northumberland and North Tyneside".
You can see a number of videos with clinical teams talking about the innovation and what it will mean for the organisation by clicking here https://youtu.be/Ame6yyjutUA
You can find patient information on robotic surgery here