Publish date: 21 September 2022
Northumbria Healthcare introduces new role in critical care to support patients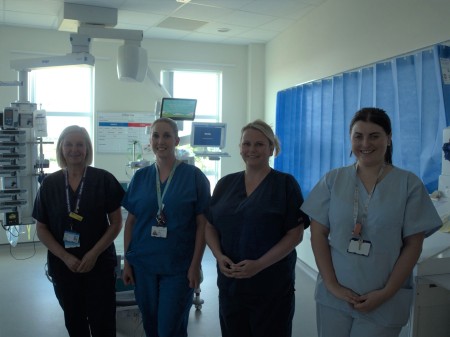 Northumbria Healthcare NHS Foundation Trust now has a nursing associate in its critical care team, the first trust in the North East to introduce the role in this specialty.
The introduction of the post to the department at the Northumbria Specialist Care Emergency Hospital (NSECH) in Cramlington means additional expertise on the unit, improving the timeliness and quality of the care that can be provided to patients.
And it has provided a welcome career opportunity for Sophie Dunlop, who has been in post for around three months, having started towards the end of June.
"I've always wanted to do nursing, it's always been in the back of my mind. I just didn't know the right way to go about it," she said.
"I worked in the emergency department for around a year-and-a-half then saw the opportunity to join as a registered nursing associate and jumped at it.
"I've really enjoyed the experience so far and feel very happy here."
Launched with the aim of bridging the gap between healthcare assistants and registered nurses, the training of nursing associates began in 2017 before they first joined the register in 2019.
The role helps to ensure skilled staff are at the bedside, while allowing registered nurses to focus on the most complex care duties, while opening up a new training route for those interested in getting into nursing.
Sophie's introduction into the critical team at Northumbria Healthcare has been welcomed by colleagues.
Staff nurse Kelly Douglass said: "Sophie has come into the role with a very positive attitude and really enhances patient care. Having that extra member on the ward is great and we're able to deliver care quicker.
"We've had a lot of positive feedback from patients and she is already a very valued member of the team."
Rachel Wade, the speciality clinical educator for critical care, added: "This role gives people the opportunity to come into a registered profession who may not be able to follow the traditional nursing route. It really benefits us having a wider workforce to call upon."
---