Publish date: 4 November 2021
Inpatients back at Berwick Infirmary after temporary move during demolition work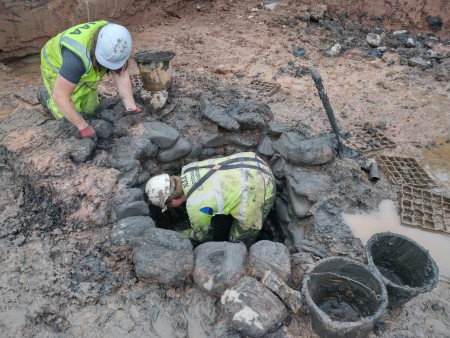 Inpatients are again being welcomed onto the ward at Berwick Infirmary as the £30million project to construct a new state-of-the-art hospital continues at pace.
Work to demolish older parts of the infirmary, which first opened in 1874, started in the summer and required a temporary halt to patients staying overnight on the ward, to ensure that the highest standards of patient care and safety were maintained.
This was due to concerns about the nearly 150-year-old buildings being demolished potentially containing aspergillus, a mould that can affect those with underlying health conditions and a weakened immune system.
The demolition work has progressed successfully since then, meaning the ward is now open to patients once again, ending a temporary situation which saw patients who would otherwise have been admitted receiving high-quality care either at other Northumbria Healthcare NHS Foundation Trust hospitals or La Cura House care home in Berwick, provided by Trust staff.
Oncology and some ambulatory care services were also temporarily relocated, but will return in the next few weeks. All minor injury unit (MIU), maternity and other outpatient department services have remained at Berwick throughout.
Marion Dickson, Northumbria Healthcare's executive director of nursing, midwifery and allied health professionals, as well as project lead for the new hospital, said: "We fully appreciate that this was not an ideal situation for patients and thank them for bearing with us during an unavoidable period on the road to providing Berwick with a modern and fit-for-purpose hospital for the future.
"I would also like to express my gratitude to all of the staff who have worked so hard during this disruption to continue to provide the high-quality care that our residents deserve and have come to expect from the Trust and Berwick Infirmary.
"The safety of patients is always our primary concern, so we reluctantly had to make this decision to close the inpatient ward for a time, but we are delighted that residents of Berwick and the surrounding areas once again have access to this facility at the heart of their community."
Meanwhile, the archaeological dig on the infirmary site continues to turn up fascinating discoveries which shed light on the history of the town, having already made a number of significant finds, some dating back to 1100 AD.
The excavation, by Northern Archaeological Associates, has now moved onto a western section of the site near the Brucegate entrance, and has resulted in a further two wells being discovered.
The most recent dates back to around the 19th century and has been identified on a map of the area dating to the 1820s. It is believed likely that this well belongs to the former poor house immediately opposite on Brucegate.
The second well (pictured above) dates back to the late medieval period (15th to 16th century) and a number of nearly complete shoes and shoe fragments were found inside; the leather survives because of the waterlogged conditions within the well. Several large sherds of medieval pottery were also discovered.
---
Media contact
Ben O'Connell, media and communications officer
Benjamin.O'Connell@northumbria-healthcare.nhs.uk or 07833 046680.
---