Publish date: 8 March 2023
"Trust yourself and understand you are capable of the things you know you want to do." Creative Designer Molly talks about her role for International Women's Day 2023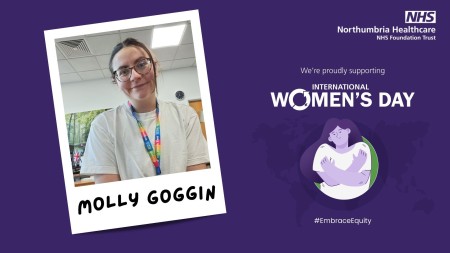 Introduce yourself, what's your background?
Hi I'm Molly. I'm a graphic designer, I went to uni in Leeds but at a small art college called Leeds Arts University where I gained my BA Hons in Graphic Design. I didn't work in the design world until 5 years after uni – I thought it was quite hard to get into as you need experience to get any job. After 5 years of working in Fashion (which wasn't a passion) I decided to get a lower level design job and gain experience that way. It worked out well, as I now have this job which I love.
Tell us a bit about your role in the trust
I help make things look more interesting to the eye. I work with many different teams across the trust to help get their information out across to their audiences in the best and most effective way.
What has been your biggest success?
Creating the MECC toolkit was a huge undertaking and something im really proud of. I was quite new to the team when I was asked to do it, which is amazing to know I could be trusted with such a large project. There was a lot of information to make look interesting while following the branding, which was minimal – so it was a good challenge. The feedback has been really positive as people use it, so I'm really happy with it.
What has been your biggest challenge?
My biggest challenge is understanding that im good enough and worthy of this role. I've worked in really toxic companies that really break you as a person let alone a professional. So it has been a culture shock to come into a work place where people thank me for my work or pass on positive feedback. I think it still takes me a while to believe it but it makes me feel like im in the right place.
What advice would you give to your younger self? Or, to someone thinking of starting a career in your field
Trust yourself and understand you are capable of the things you know you want to do.
---