If you have problems with your legs and feet or are experiencing painful foot conditions our podiatry team can help to make sure that you can still get around as you used to and to stay independent.
Services range from support in self care through to specialist work in areas such as nail surgery, specialist rheumatology clinics and specialist footwear clinics.
We see patients in many different sites including some GP surgeries, our hospital wards, day centres and hospital outpatient departments as well as in your home.
---
Contacts
Our podiatry service covers both Northumberland and North Tyneside, Monday to Friday. Depending on where you live please contact us using the details below:
North Tyneside:
Department of Podiatry
Victoria Therapy Centre
Hawkeys Lane
North Shields
Tyne and Wear
NE29 0SF
Tel: 0191 282 8080
Email: Podiatry.NorthTyneside@northumbria-healthcare.nhs.uk

In North Tyneside, the service operates Monday to Friday between 9am – 4pm.
Northumberland:
Northumberland Podiatry Department
Northumberland Podiatry Hub
Thomas Knight Unit
Blyth Hospital
Thoroton Street
Blyth
NE24 1DX
Tel: 01670 396461
Email: Podiatry.Northumberland@northumbria-healthcare.nhs.uk
In Northumberland, the service operates Monday to Friday between 8.30am – 4.30pm.
---
Video consultations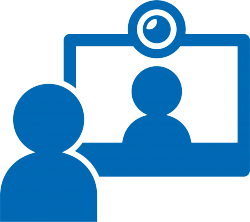 We can offer online consultations where appropriate via a video call to make it easier for you to attend.
Rather than travelling to your appointment, you will receive a text or email before your appointment and simply need to click to join. Find out more here.