Publish date: 22 May 2023
Work is underway to build Berwick's new hospital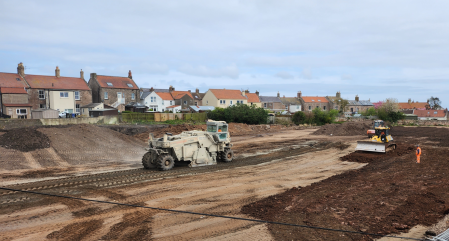 Work is underway on the site of Berwick's new £35 million hospital and the project is now moving into an exciting phase.
Preparatory work on site has begun to enable the footprint of the hospital to be dug out and the foundations of the two-storey state-of-the-art building to be laid. Once this work is complete the steel frame of the new hospital will be constructed. Work in the Merit factory is also progressing very well.
The project is now at the stage where changes to in-patient care at Berwick Infirmary are needed to ensure that the new hospital, which will significantly improve patient and staff experience, opens on schedule towards the end of 2024.
Patient safety and staff wellbeing are always top priorities for the Trust, so it will be necessary to install a new temporary ward for inpatients, in the maternity car park, while the hospital works continue. This will only affect patients being admitted to the Infirmary.
This is a necessary and important part of the process and ensures that patients can remain on the hospital site in Berwick, rather than them being cared for in other parts of the town or elsewhere in Northumberland.
The relocated 10-bed inpatient ward, which will be very comfortable and have all the facilities and access that the existing one does, will admit inpatients from around mid-July.
Relocation of the ward will ensure the best achieved completion date so that people from Berwick and other local communities can access the new 20-bedded hospital as quickly as possible.
Some patients that would usually be admitted to Berwick Infirmary will be cared for at Alnwick Infirmary and the Trust will also care for as many patients as they can within the community. Where a patient is cared for will depend on their clinical need and Northumbria Healthcare will provide transport for patients and relatives as appropriate.
Maternity, oncology, ambulatory care and minor injury unit services will remain within the Berwick Infirmary building and will not be affected.
It hasn't been possible to keep patients in the existing ward because construction work will be happening less that one metre away and services underneath the existing ward need to be accessed.
Marion Dickson, executive director of nursing, midwifery and allied health professionals for Northumbria Healthcare NHS Foundation Trust, and project lead, said: "It is fantastic that we are now moving into this very exciting phase of this project and that our new hospital is most certainly now a reality! We have considered a few options and are very pleased that we are able to keep both our inpatients and ward staff on our Berwick Infirmary site.
"We are doing the right thing for our staff and patients and ensuring that construction of our new hospital is completed as quickly as possible. We are very aware of how long people have waited for our new hospital to open.
"I would like to reassure everyone that we are doing all we can to keep disruption to a minimum on site and that we will continue to keep everyone updated on progress. I would also like to thank our staff for their continued efforts, flexibility, and patience. And we also very much appreciate the support of our local communities and stakeholders."
Northumbria Healthcare is working with Northumberland County Council to ensure that maternity patients have access to parking nearby.
Once the frame of the hospital is up, stairs and floors will be installed along with an accessible rooftop. The building will be clad and glazed externally to weatherproof it and ensure it is watertight. The offsite manufactured components will then be put in place and the building will be fitted out.
Finally, the remaining old hospital buildings will be demolished, the car park and access roads will be built, and landscaping work completed.