Publish date: 6 March 2023
Widening access to healthcare careers through vocational packs for schools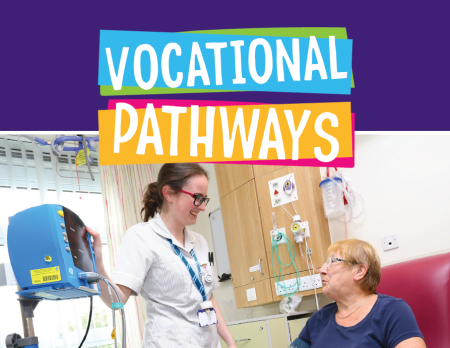 A North East NHS trust committed to opening up access to healthcare careers has worked with an education group to create a range of resources.
Northumbria Healthcare teamed up with North Tyneside Learning Trust, a collaboration of 44 schools, to create a set of resources which promote the range of careers within the health and life sciences sector.
The pack, which is being highlighted as part of National Careers Week (6-11 March), has a particular focus on vocational routes and also aims to support pupils with SEND (special educational needs and disabilities) and those attending alternative provision.
The Vocational Pathways series has been specifically developed to highlight the range of roles and opportunities available, the skills required in each role, as well as the different routes a young person can take to pursue that career.
Teachers can pick the elements they wish to use and the set includes practical activities, videos, a presentation, a takeaway handout, and questionnaires and handouts for parents.
Sarah Lamb, one of Northumbria Healthcare's specialist practitioners - widening participation, and Carmel Murray-Cooper, area manager for Project Choice Northumberland, worked with NTLT to develop engaging, relevant and up-to-date content for the resources, including videos which promote the Project Choice Supported Internship programme.
Northumbria Healthcare already works with Project Choice to provide internships for young people with additional needs, while this latest project is just another example of work with North Tyneside Learning Trust.
The NHS trust regularly supports NTLT's World of Work programme which offers employer-enriched careers interventions to its schools and in the last academic year alone Northumbria was present at 47 of its school events.
Angie Patterson, World of Work project lead at North Tyneside Learning Trust, said: "We are really grateful to Northumbria Healthcare for helping us to create these resources.
"Awareness of post-16 vocational routes among schools, pupils and parents is often weak and there are very limited teaching materials produced for SEND pupils or for those with low attainment, so we were really keen to plug this gap as these pupils are the ones who often need the most support and guidance.
"With the health and life sciences sector also being one of the four growth sectors within the North East, it is so important to promote the amazing opportunities and range of careers to our young people."
Sarah added: "We are always looking for chances to work with partners in the region on projects which support the promotion of health and care careers, particularly those which seek to ensure that everyone in our communities has access to opportunities that meet their needs."
Sarah and her fellow widening participation practitioner, Alex MacKenzie, were recruited last year with a remit to engage with communities to promote opportunities within Northumbria Healthcare and attract people from all backgrounds into health and care careers.
This was just one example of work being undertaken under the banner of the trust's Community Promise – a pledge to focus on all the ways it can improve people's lives based on six key pillars, which relate to the wider factors that fuel health inequalities – poverty, employment, education, economy, environment, wellbeing.
The resources, which have been funded by the Careers and Enterprise Company, are now available for any school nationally to download and use - https://resources.careersandenterprise.co.uk/resources/ntlt-vocational-pathways
---
Media contact
Ben O'Connell, media and communications officer, Northumbria Healthcare
Benjamin.O'Connell@northumbria-healthcare.nhs.uk or 07833 046680.