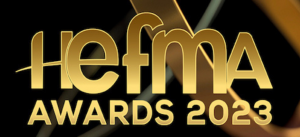 The HEFMA Awards have released their shortlist of 2023 finalists including two nominations for Northumbria Healthcare Facilities Management (NHFM). Chris Campbell, hotel services officer for NTGH and Hexham, and Katie Wright, catering and security manager at NSECH, have both received nominations for 'Leader of the Year'.
The HEFMA (Health Estates and Facilities Management Association) Awards celebrate the dedication and achievements of those working in estates and facilities management for the NHS across the country.
Chris and Katie have both been nominated for their running of day-to-day services at Northumbria Healthcare NHS Foundation Trust.
Speaking on his nomination, Chris said: "I'm not sure what to say really. I'm overwhelmed by being nominated and I'm really fortunate to work in a very supportive and professional team."
Katie was also thrilled with her nomination: "I thoroughly enjoy my role and the team I work with, it's an honour to have been nominated for leader of the year."
Damon Kent, managing director of NHFM was delighted to hear about their nominations. "To have not just one but two colleagues nominated is an honour. For their hard work to be recognised on a national scale just shows how dedicated they are in delivering their services to help provide the best care for our patients.
"It's very rewarding to see leaders take pride in their work, especially when they're being celebrated for the difference they're making."
The winners will be announced on 25th May 2023 in London, during the HEFMA Leadership Forum. We would like to wish good luck to Chris, Katie, and all the other finalists.