Publish date: 28 February 2023
Significant milestone reached for Berwick's new hospital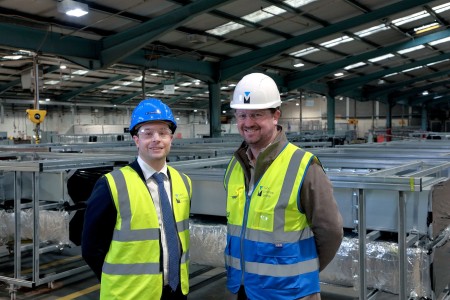 The construction of Berwick's new and long-awaited £35 million hospital has begun.
Northumbria Healthcare NHS Foundation Trust appointed Merit Health as their construction partner and a large proportion of the hospital's services infrastructure and fit-out will be built offsite at Merit's factory in Cramlington.
Work has now begun, using the modern offsite method of construction, to manufacture 650 pre-assembled modules (PAMs), weighing around 195 tonnes in total, and 17 UltraPODs® weighing around 300 tonnes.
The PODs will house all mechanical, electrical and plumbing services. This will include power, lighting, heating, ventilation, air conditioning and fire alarm systems. The PAMS, which will sit underneath the PODs in the ceiling framework, will act as the distribution network for the services into the hospital building.
Marion Dickson, Northumbria Healthcare's executive director for nursing, midwifery and allied health professionals and project lead, said: "We are absolutely delighted that we have reached this very significant milestone and that the construction of our fantastic new hospital has begun. We have to acknowledge the very long time that people have waited for this and we thank every single person involved for getting us to this point. Our staff have been incredibly resilient over the last three years especially, coping with a global pandemic and all the work that has been done on the Berwick Infirmary site. Local residents and communities have been very patient too and we appreciate that.
"Our new hospital will not only provide top quality healthcare well into the future, but will also provide a much-improved environment for our staff and patients, enable additional services to be provided and also support staff recruitment and retention. It will be something that Berwick and indeed Northumberland and the North East can be very proud of!"
Northumbria Healthcare NHS Foundation Trust is holding a public drop-in session for people to find out more and meet the project team. Clinical colleagues and representatives from Well Close Medical Group will also be on hand to talk about the services that will be provided from the new hospital.
The drop-in event is being held on Thursday, March 9, between 2.30pm and 7pm, at the William Elder Building, 56-58 Castlegate, Berwick-upon-Tweed, Northumberland, TD15 1JT.
The trust has appointed Turner & Townsend to provide project management consultancy. Liam Robinson, who works for the global professional services company and is Northumbria Healthcare's project manager for the scheme, said: "I am incredibly proud to be working on a project which is going to have such a positive effect on the health and wellbeing of the local communities in and around Berwick. It is great that we are finally entering the construction phase. The energy centre, which was going to be housed in its own building, has recently received planning permission to be installed within PODS on the rooftop of the building. This will free up space on site.
"We would like to reassure people of our commitment to ensure that everyone is updated as the project progresses. I would encourage people to come along to the public drop-in session."
Work to level the site and dig out the hospital footprint will start within the next few weeks and should be done by early summer. The foundations will then be laid and the steel frame of the building will be erected.
Mark Brough, Merit Health's project manager, said: "Once we have constructed the frame of the hospital, stairs and floors will be installed along with an accessible rooftop. The building will then be clad and glazed externally to weatherproof it and ensure it is water tight. After this, we will install the offsite manufactured components that will form the network of services for the building. We will then be able to fit out the hospital.
"One of the main benefits of our offsite approach to construction is that work on-site and in our factory is done in parallel, meaning that projects can be completed a lot quicker than the traditional build model. A very special part of the project will be when what has been manufactured in the factory, especially the PAMs and PODs, are transported to site. It is quite a spectacle to see! We will of course keep everyone updated on the progress of the scheme and we will let people know if they are going to be impacted in any way. I am really looking forward to setting up the site now and feel privileged to work on something which is so important for the local communities of Berwick."
Once the main build is complete, demolition of the remaining old hospital buildings, with exception of the clock tower, will be carried out. The car park and access roads will be built and landscaping work completed.
Using the offsite approach to construction will also reduce local disruption, site traffic and noise as majority of the work will take place in Merit's factory in Cramlington rather than on site in Berwick. This also makes the project more sustainable as there will be less vehicle movement. Manufacturing in a controlled factory environment also means that the build is not impacted by the weather.
Northumbria Healthcare reassures people that it is mindful that a project of this nature and size, and the location of where the new hospital is to be built, will cause disruption and it will do everything it can to minimise this.
Marion Dickson continued: "I hope to see lots of people at our public drop-in session. As well as finding out more about construction methods, timescales and what impact the work will have, colleagues from our trust will be on hand to talk about hospital services. At the heart of all of this is improving patient care and experience. It is really exciting that we will have a new endoscopy suite and we are also considering services including colposcopy, audiology and dental services. When thinking about joined-up and holistic patient care, it is going to be so beneficial to have one of the local GP practices within our new hospital too. We hope that everyone is as pleased as us that we are now really starting to make progress in making our fabulous new hospital a reality!"
It is hoped that the new hospital will open towards the end of next year.
---
Media contact
Cara Charlton, head of PR, Northumbria Healthcare
cara.charlton@northumbria-healthcare.nhs.uk, 0191 203 1512 or 07812 389963