Publish date: 8 August 2022
Making an impact: Northumbria Healthcare Facilities Management nominated for two national awards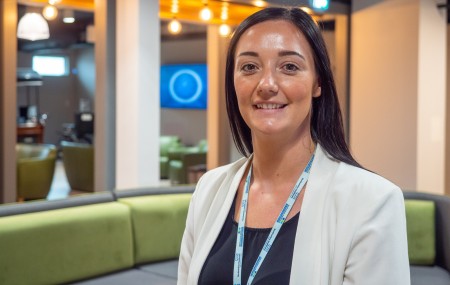 A key new facility to support healthcare staff at Northumberland's emergency hospital is in the running for a top national award.
The prestigious IWFM Impact Awards 2022 have officially listed their finalists for this year, with the Northumbria Staff Health and Wellbeing Centre, at the Northumbria Specialist Emergency Care Hospital in Cramlington, being nominated in the Wellbeing category. Meanwhile, Katie Wright, who works for Northumbria Healthcare Facilities Management (NHFM), has been shortlisted as Newcomer of the Year.
The IWFM (Institute of Workplace and Facilities Management) Impact Awards is the workplace and facilities management industry's most prestigious event, which celebrates and showcases outstanding best practice and ingenuity from the profession.
The Health and Wellbeing Centre has been recognised in the wellbeing category for its key role in ensuring staff are provided a space away from clinical areas where they can rest and relax in a bid to support mental health and wellbeing.
The centre provides 24-7 catering facilities and also boasts formal and informal meeting spaces, a conveniently located and affordable health club, gym and wellness space offering classes and with a focus on keeping active, and rooms in which staff may rest, relax and socialise.

Reflecting on her nomination as Newcomer of the Year, Katie said: "I was very shocked to be nominated. My manager came in and told me that I'd be invited to talk to a panel for the IWFM Awards. I nearly fell off my chair! But once the surprise had subsided, Nicola showed me what I would be presenting and it surprised me how much I had actually done."

The presentation clearly went down well with the panel, who progressed Katie into the finals after speaking about her vision and the future of facilities management. Katie will now be heading down to London on October 17 to see if she can land the prestigious award.
"I'm absolutely over the moon to be nominated, I feel like working in facilities they're all being recognised for this. We're like a family here."
Damon Kent, managing director of NHFM, was thrilled to hear about Katie's nomination and extremely happy to see the Health & Wellbeing Centre recognised at the awards too.

"Firstly, congratulations to Katie and everyone who has worked on the development of and now successful running of the Health & Wellbeing Centre. To be recognised nationally for the work we do is always an honour.
"It is particularly rewarding to be nominated for the centre as we know how important staff wellbeing is to the trust, recognising that we need to look after our teams so that they can provide the best care for our patients.