Publish date: 16 December 2020
MP marks start of works on new Berwick hospital
---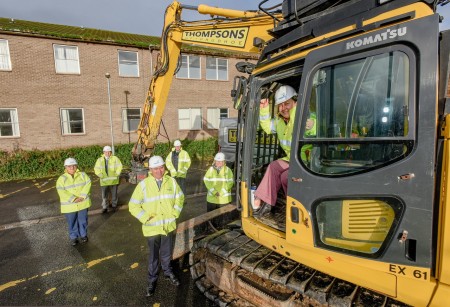 Anne-Marie Trevelyan MP has marked the start of works on Berwick's new £25million hospital.
The MP for Berwick visited the site at the town's existing infirmary where the new hospital will be built following the granting of planning permission earlier this month.
Contractors Thompsons of Prudhoe have begun enabling works to prepare for the demolition of the vacant parts of the hospital next year which will pave the way for the new development on the northern end of the site.
The new purpose-built hospital will replace the current infirmary which is no longer suitable for the efficient delivery of modern-day healthcare.
The two-storey building will re-provide all the existing services with the addition of an accredited endoscopy suite to deliver care closer to people's homes, and house GP practice Well Close Medical Group.
Anne-Marie Trevelyan, MP for Berwick, said: "I am beyond excited to be here at those inaugural steps when the works start as we have probably campaigned for 20 years for the old infirmary to be replaced with a 21st century hospital.
"It is genuinely going to be transformative not only for Berwick town itself but for the wider community as well to have a modern community hospital.
"This is such a fantastic moment as it fits with the wider commitment to the NHS to have modern facilities that will be able to deliver the safe healthcare that all my constituents need, and need to have locally.
"I'm really thrilled that Northumbria Healthcare has understood that commitment and have found the way to really push this project forwards."
Sir James Mackey, chief executive of Northumbria Healthcare, said: "A new hospital for Berwick is a really big part of what our trust is about by refreshing the buildings that we work in so they're suitable for patients and staff, innovate where ever we can and help the local economy regenerate. These are all the more important in 2020 given the year that everyone's been through.
"This is a £25million investment for the community and we'll try and make as much of that local employment as possible and, as always, there's great innovation in design and construction. I'm delighted to see initial works begin."
The new hospital will create 295 full-time equivalent jobs per year during the construction and operational phases, and generate more than £17million to the local economy during the build.
Anne-Marie added: "It's been an incredibly hard year and a year of absolute commitment from all our NHS staff across the UK but particularly I know across our patch in the North East. I would like to say a huge thank you to every single one of them and to their families.
"Going forwards there's much more still to come as Covid-19 is still with us. We still have to lead a slightly strange and much more closed life until the vaccine is able to reach across all our communities and ensure we can live in a normal way again.
"In the meantime, that's going to be our NHS staff who continue to look after us and try and deliver all those vital healthcare services which we all take for granted and know are so important.
"A huge thank you for what you have all done and what you will continue to do."