Publish date: 15 September 2020
Limited-edition NHS rugby kit raises thousands of pounds for Bright
---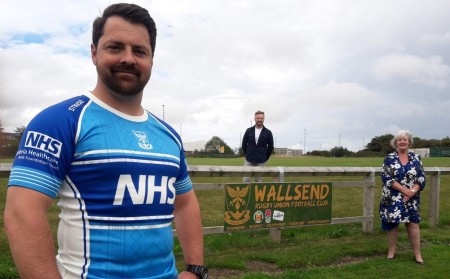 Sales of a limited-edition rugby kit have raised more than £3,000 to benefit NHS patients and staff in North Tyneside and Northumberland.
In a unique partnership, Wallsend Rugby Club teamed up with Northumbria Healthcare NHS Foundation Trust as a way of saying thank you to the NHS for its response to COVID-19.
The custom-designed jersey, hoodie and t-shirt with the logos of the trust and its Bright charity proved to be very popular and the club donated a cheque for £3,376.64 to Bright.
The idea for the 'Wallsend NHS Jersey', which will be the club's official away kit for the forthcoming season, was developed by sportswear brand STINGZ™.
Bright, the registered charity of Northumbria Healthcare, funds a wide range of health and care initiatives for patients and staff across North Tyneside and Northumberland.
Brenda Longstaff, head of Northumbria Healthcare's Bright charity, said: "The last few months have been unprecedented for the NHS and we are extremely grateful that Wallsend RFC and STINGZ™ decided to raise money for us.
"To have our logos on the kit is a mark of respect for the NHS and a public thank you for the amazing care our staff have continued to deliver for patients in challenging circumstances.
"This partnership is yet another example of the tremendous support we've had from local communities during the pandemic, which has been so uplifting for our teams, and we would like to thank everyone who bought the kit.
"The money raised will go towards further improving our patients' experiences of receiving care and supporting the health and wellbeing of our staff and volunteers. Finally, we hope having NHS on the kit will be a good omen for the team and we wish them all the best for the new season."
Duke McIntyre, chairman of Wallsend RFC, said: "We are delighted that we have been able to raise more than £3,000 for Northumbria's Bright charity.
"The response from our local NHS to COVID-19 has been immense and we're pleased that we have been able to contribute and help support patients and staff who are doing an amazing job during these difficult times."
STINGZ™ co-founder Ernest Stobbs, from Wallsend, said: "Everyone has been touched in some extent by COVID-19 and we are pleased that our way of showing our appreciation for our local NHS has proved to be popular with the public.
"Knowing that all the profits raised from the sale of the kit will remain in North Tyneside and Northumberland is hugely significant for the club and our community and we would like to thank the local NHS for all that they do."