Publish date: 21 October 2022
It's a triple regional win for Northumbria Healthcare's apprenticeship efforts
Northumbria Healthcare NHS Foundation Trust landed a trio of successes at this month's regional leg of the National Apprenticeship Awards.
Designed to recognise and reward the achievements of exceptional apprentices, apprenticeship champions and apprentice employers, the awards' first stage is the regional competition and those winners will undergo a second bout of national judging where finalists will be selected.
Part of this year's winning hat-trick at the North East ceremony, Northumbria Healthcare's Natasha Scorer scored twice.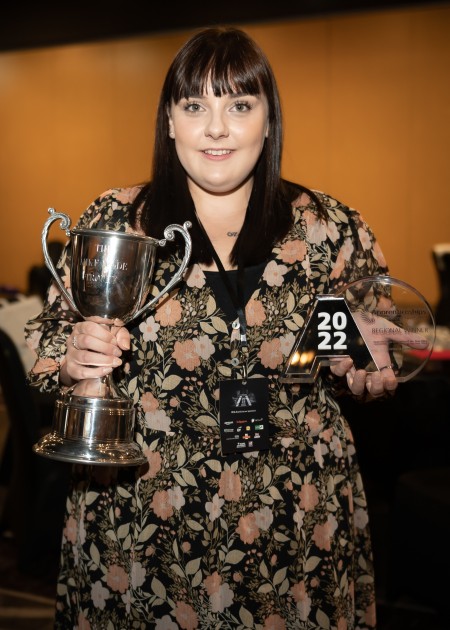 The 24-year-old was named Apprenticeship Champion, which celebrates individuals who champion apprenticeships with enthusiasm and passion.
The Cramlington native also won the Mike Wade Trophy, a regional honour first awarded in 2021 and dedicated to the memory of the much-loved and respected Apprenticeship Ambassador.
Natasha is the current chair of the North East Young Apprenticeships Ambassador Network, a group focused on advocating for apprenticeships and who help shape regional policy.
A third regional success saw Northumbria Healthcare as the recipients of the Highly Commended Macro Employer, which recognises employers who put apprenticeships at the heart of the workforce, support development and can showcase the success that apprenticeships have brought the organisation.
Karen Hookham, Northumbria Healthcare's apprenticeship services manager, said: "It's fantastic to see our efforts on apprenticeships being recognised. We always want to do well and be the best we can be and this success just lets us know that we are on the right track.
"Quality is one of the trust's core values and we make sure we instil that into every apprentice we have and award recipients like Natasha are a testament to that."
This trust's apprenticeship scheme received an Ofsted seal of approval at the start of 2022 during its first full inspection. The report has showed that the trust has been rated as good overall and across all five categories – quality of education, behaviour and attitudes, personal development, leadership and management, and apprenticeships.
Supporting the shaping of successful lives and business practice across a large and diverse range of sectors, apprenticeships are a great first step into many industries. Northumbria Healthcare proudly offers a range of apprentice opportunities, many of which are in non-medical or clinical roles.
To find out more, visit https://www.yournorthumbriacareer.co.uk/apprentices
---
Media contact
Liam Lillico, social media and digital assistant, Northumbria Healthcare
liam.lillico@northumbria-healthcare.nhs.ukor 0191 203 1219.