Publish date: 24 May 2023
First phase of Hexham redevelopment sees opening of new and improved midwifery led unit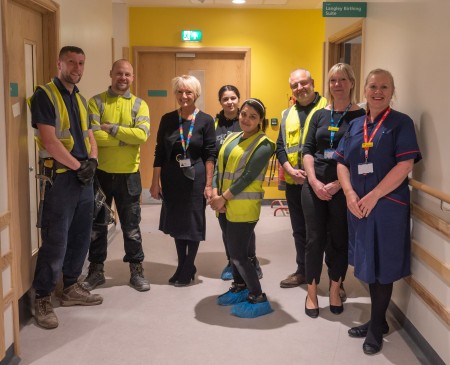 A huge redevelopment programme at Hexham General Hospital is well underway, with £15million being invested to improve facilities for patients and staff.
The first phase of the project has seen the opening of a new and improved maternity unit, which consists of a fully modernised space providing two delivery rooms and a birthing suite which all feature en-suite bathrooms.
Patients who choose to deliver at Hexham hospital will also benefit from a new and improved ergonomic birthing pool, featuring built in LED mood lighting, to enhance the birthing experience.
The unit will officially be opened on 1 June at 9:30am by Marion Dickson, executive director of nursing, midwifery and allied health professionals who will be joined by three local mums who have previously delivered their babies at Hexham General Hospital.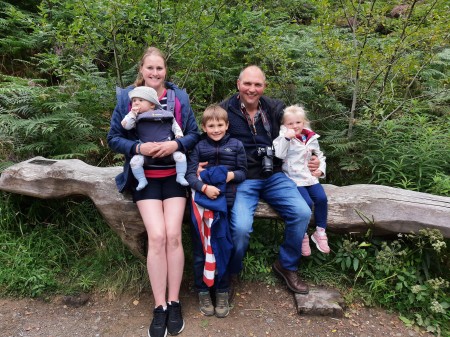 One of those is Tori Rutherford who has given birth to all three of her children at the hospital. Tori, from Hexham explains "I gave birth at Hexham in 2015, 2018 and 2022 and cannot rate the service I received highly enough. The familiarity of the team when entering the unit immediately makes you feel at ease. I was lucky enough to have the same amazing Community Midwife, Kathryn, for all three pregnancies and I was incredibly thankful that she delivered our third baby.
"I suffered with Hyperemesis Gravidarum and always felt hugely supported by the team. The facilities are great and the post-natal care, particularly breastfeeding support, is second to none. The entire team go above and beyond – nothing is too much bother and the help is always there.
"I think this new unit will enable the team to continue to provide a 5* maternity service, and I hope the new space welcomes many new lives in the years to come."
The whole programme will see state-of-the-art new purpose-built endoscopy and maternity units and an expansion of the theatres department to build on Northumbria Healthcare's model, including a concerted use of day case surgery, which has allowed the trust to perform among the very top nationally for both emergency and elective care. Its location in the west of the county means that it serves a wide rural area.
The wider £326million investment package outlined by Northumbria Healthcare NHS Foundation Trust, will be invested throughout the Trust's patch, across 2,500 square miles in Northumberland and North Tyneside, improving facilities for patients and staff and increasing capacity to build on the already outstanding care provided to communities, keeping waiting lists to a minimum.
The general hospitals will be a major focus of this significant estates masterplan being rolled out over the next five years, with the first phase of upgrade work having already started at Wansbeck (Ashington) and North Tyneside. A number of wards are being refurbished to improve facilities and the environment for both staff and patients, not least through the creation of additional single rooms/bays and en-suites.
Marion Dickson, executive director of nursing, midwifery and allied health professionals said: "This new and improved unit gives pregnant people across Hexham who choose to deliver at their local hospital a calm and relaxing place to do so.
"We know that getting the environment right directly correlates with a positive birthing experience and we are really proud of this space we have created - we can't wait to open it up to our patients.
"Tori's story is a great example of the commitment of our midwifery teams, who work incredibly hard to build relationships with expectant mothers in a time of new beginnings. These experiences shape lives and our midwives see it as a privilege to care for women at these formative times."
---