Publish date: 27 February 2023
Do you care about improving patient experience and reducing health inequalities in your local area?
An exciting opportunity has arisen to become a Northumbria Healthcare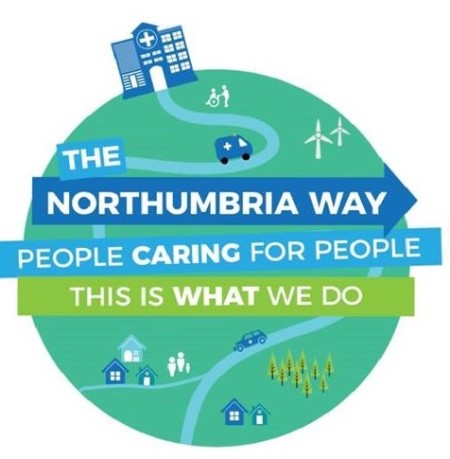 NHS Foundation Trust Lay Representative bringing the perspective of patients, the wider community and health inequalities to influence the development of Northumbria's services.
The opportunity
Northumbria Healthcare provides a range of health and care services to support more than 500,000 people living in Northumberland and North Tyneside across the largest geographical area of any NHS trust in England. Our teams deliver care from hospitals, a range of community venues and people's homes. Our hospitals include a specialist emergency care hospital, three general hospitals and community hospitals. In the community we deliver a wide range of community and public health services. 
We are seeking to recruit 12 public members to attend pre-arranged trust meetings, forums and events to work with us to inform how we plan, design and improve health and care and services at all levels across our organisation.
This role is for a term of 2 years with a time commitment of a maximum of 2 days per month (15 hours). It attracts a nominal involvement payment of £150 per day or £75 per half-day, and reimbursement of agreed reasonable out-of-pocket expenses.
Applicants must have a commitment to improving patient experience and safety and responsibilities include:
Championing a diversity of views to include patients and the wider community with a focus on health inequalities, health inclusion and patient experience.
Challenging us and the way that we work; being our critical friend.
Preparing well for and participating at agreed meetings and other events to provide informed input.
Compliance with Northumbria Healthcare values and standards of conduct, respecting the confidential nature of documents and discussions where appropriate.
Participate in Trust induction and training process.
As a lay representative you will need to have:
Knowledge or experience of NHS, social care and/or public health services.
An interest in patient safety and the improvement of NHS services.
Experience of speaking in large groups.
Ability to listen and to express views.
Ability to act as a critical friend.
Ability to work as part of a group with people from a wide range of different backgrounds.
Understanding of health inequalities and their interaction with health and care and services.
Ability to understand and evaluate a range of information and evidence.
Previous experience of working in partnership with healthcare organisations or programmes.
An awareness of, and commitment to diversity and equality of opportunity.
Understanding of the need for confidentiality.  
Have access to an IT device and be computer literate.
Northumbria Healthcare is committed to being as inclusive as possible in all that we do, and will therefore adopt any reasonable adjustments required to enable you to fulfil this role.
To apply
If you are passionate about health and care and the importance of people and communities shaping local services, we warmly encourage you to request an application pack by emailing the experience team at PPP.Group@northumbria-healthcare.nhs.uk
Alternatively, if you would like an informal discussion about the role, please contact Jo Mackintosh, Chief Experience Officer on 07901102840.
The closing date for applications is Monday, 13 March 2023 at 5pm. 
Interview dates: Monday and Wednesday, 27 and 29 March at Northumbria Specialist Emergency Care Hospital, Cramlington.
Please note: This advert may close earlier if sufficient applications are received before the closing date.