Publish date: 24 November 2022
Clinical educator Elaine Francis tells us about her passion for caring for older people and how her current role at Northumbria has become her dream job
My job is all about helping our clinical teams to meet one of the biggest challenges facing the NHS and wider society as a whole – meeting the needs of our growing ageing population.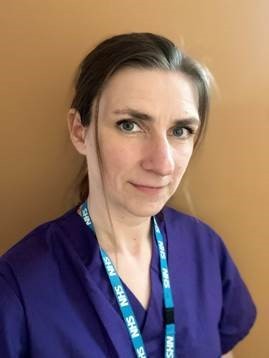 I'm the clinical educator for the Enhanced Care for Older People (EnCOP) programme, which is all about supporting staff across healthcare to deliver gold standard care for older people.
The programme aims to provide people with the knowledge, skills and confidence to ensure older people get seamless, high quality care from the whole workforce based on an agreed and measurable competency framework.
This is my dream job. I love the variety of my role, developing and running interactive workshops around frailty, having 1-2-1s with people to support their development, finding opportunities for more teams and staff to be involved with EnCOP, and ultimately helping all NHS staff value care for older people - to see it as the specialism that it is.
The UK population is ageing – by 2066 more than a quarter will be aged 65 and above, of which 7 per cent will be 85 or older, and Northumberland has the fasting ageing demographic in England. Living longer presents many opportunities for individuals, families and society, but there are also big challenges for health and care services.
Twenty years ago, I worked in a university library, helping nursing, midwifery and social work students with their information literacy skills. Ten years ago, I worked in a London office specialising in knowledge and project management.
Then, I volunteered with Cruse Bereavement Care, started a counselling skills course, and soon realised this gave me a new sense of satisfaction and reward. A new path was set, and I retrained to be a mental health nurse.
No-one was surprised when my first qualified post was on a ward for people with dementia. I was known for advocating for older people, care-givers, and running Dementia Friends workshops.
More surprising was that I also moved 250 miles north, but family changes and the chance to work at Northumbria Healthcare in a mental health setting, which actively promoted the same values as mine, made it an easy choice.
The biggest challenge is seeing current pressures on all health and care staff. It's been really important to me that I've been able to travel to different buildings and wards, to meet with people and listen to their experiences during and post-pandemic.
Despite incredible pressures, I've seen countless examples of amazing care being delivered, which I'd love to share and celebrate. I'm thinking about how that could happen, how more areas could be engaged, how we can best measure impact, and how older people themselves can be meaningfully included in this programme.
You can find EnCOP throughout the North East but I'm really proud of how we've done something unique at Northumbria to help support our ward-based staff.
We've come a long way in the first year of rolling the programme out, and my hope is that we keep expanding its reach and impact over the years to come.