Summary of team
The service offers therapeutic support for patients and adult family members across the whole cancer journey. Support is offered to individuals, couples, groups & families. We can offer support face to face, using videocall, and by telephone call, depending on the needs of each individual.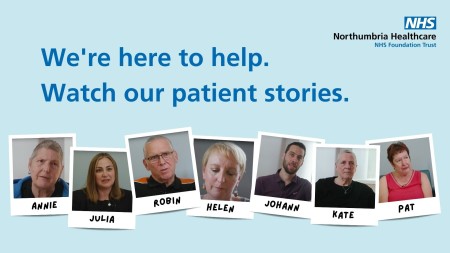 You can access this service by talking to one of the staff involved in your cancer care, who can make the referral on your behalf.
This might be your oncologist, clinical nurse specialist, one of the Oncology Day Unit staff, your Macmillan community nurse or one of the palliative care staff.
We don't routinely take direct self referrals or GP referrals.
We are based on the oncology day units of North Tyneside, Wansbeck and Hexham General Hospitals. We can also see patients on the Palliative Care Units and have a limited capacity for other ward visits on request.
Wansbeck walk-through
North Tyneside walk-through
Hexham walk-through
How psychology can help
Sherwood Forest Hospitals Trust and Macmillan Support worked in partnership to produce this video on how psychology can be helpful for patients with cancer.
We understand that having a diagnosis of cancer is life changing, and it is totally normal and understandable to feel distressed. The team can support you and your family with concerns that are troubling you, for example;
Adjusting to the impact of diagnosis and treatment
Dealing with changes to life circumstances, including work, social life, and relationships.
Anxiety, low mood, anger, phobias, fears of cancer coming back
Coping with traumatic aspects of your experience
Adjusting to life after cancer and uncertainty about the future
Maintaining quality of life during, after and beyond cancer treatment
Coping with pain, fatigue & side effects
Adjusting to loss and change in self-esteem, physical functioning and physical appearance
Coping with end of life issues
Coping with your feelings about the illness of a loved one
Acceptance & Commitment Therapy
Clinical psychologists Jenny and Christie from our cancer psychology team talk us through an introduction to values-based living and Acceptance and Commitment Therapy (ACT) for people living with cancer.
Cancer can affect the whole family. We are here to help you through our supportive family meetings. These would include you and any family members, including children, who would like to attend.
More information about family therapy is available here. If you think family therapy would be useful, please speak to any professionals involved in your care who can refer you.
---
FAQs
We aim to offer an appointment as soon as possible. In normal circumstances you should hear from us within a few weeks of the referral being made.
Your first appointment can be face to face, by video or telephone and will last up to 50 minutes. Your first appointment will be a chance for you to share some details about your cancer journey and your current concerns. Together, you and your psychologist can think about your needs and goals, and how best to plan for further sessions.
Everyone's therapeutic journey is different. For some, the first appointment may meet your needs. For others, more appointments may be needed. You are not expected to do a set number of sessions. How many appointments, and how often they are, will be agreed between you and your therapist to best meet your needs.
We offer telephone, video and face-to-face appointments and we aim to do our best to offer appointments that are most convenient to you. We appreciate that when someone is having cancer treatment there can be obstacles to attending therapy regularly, for example other clinical appointments, treatments, and the impacts of treatment on your levels of fatigue. We aim to work with you to ensure that you are able to access the support you need as flexibly as possible.
---
Dr Jenny Johns
Lead Clinical Psychologist
I grew up in the Midlands, but fell in love with the North East, and have lived, studied and worked here for most of my adult life. I worked in Community Mental Health Teams in Northumberland for 16 years, specialising in working with people with complex mental health problems, and people who have survived traumatic experiences. In 2018, I joined the Cancer Health Psychology Team, and in 2020 I became the Clinical Lead for the Team. I am passionate about sharing psychology with our patients, families and staff teams, to help people to live well, and in line with their values. I have interests in Mindfulness, Trauma Informed Care, Family Therapy, Acceptance & Commitment Therapy (ACT), Compassion Focussed Therapy (CFT), Dialectical Behaviour Therapy (DBT), and Eye Movement Desensitisation Reprocessing (EMDR).
---
Dr Clare Wakenshaw
Principal Counselling Psychologist
I have been working in the Cancer Health Psychology team since 2019, and I really enjoy being part of the wider oncology team supporting individuals with cancer and their family members. Prior to training as a psychologist, I worked as a secondary school teacher for many years, and have also trained and worked as a children and young people's bereavement counsellor. I have my own personal experience of bereavement, and caring for someone with cancer, and feel privileged to be able to use my training to be able to support others. I aim to work collaboratively with each individual to provide the most appropriate psychological support, using a range of approaches including Acceptance and Commitment Therapy (ACT), Compassion Focussed Therapy (CFT), Cognitive Behaviour Therapy (CBT) and Humanistic Therapy.
---
Dr Christie Morley
Principal Clinical Psychologist
I joined the Northumbria team in 2020 and I'm passionate about supporting patients and their families, in coping with the significant emotional toll that cancer can take. By integrating a variety of models and theoretical approaches, I aim to work alongside people to collaboratively improve emotional wellbeing and enable clients to make positive changes in their lives. Models I regularly use include attachment focussed therapies, Systemic Family Therapy, Acceptance and Commitment Therapy and psychoanalytically informed approaches.
In my spare time, I love to walk my oversized puppy and relax with a good book or a boxset!
---
Kathryn Dickson

Team Administrator/ Project Co-ordinator
Kathryn has been the team administrator since the team was set up in 2009. She provides invaluable administrative support to the team, and will be the friendly voice on the phone when you ring us.
---
Dr Leonie Lalayiannis
Principal Clinical Psychologist
I first started working in the Cancer Health Psychology team in 2009 and re-joined the team as a Clinical Psychologist in 2014. I am passionate about creating a safe and non-judgemental space for patients, working alongside them to gain an understanding of their difficulties and helping them to improve their mental wellbeing. My approach is tailored to individual need and I use a range of approaches with special interests in Compassion Focused Therapy (CFT), Cognitive Analytic Therapy (CAT), Acceptance and Commitment Therapy (ACT) and Mindfulness based approaches.
---
Video consultations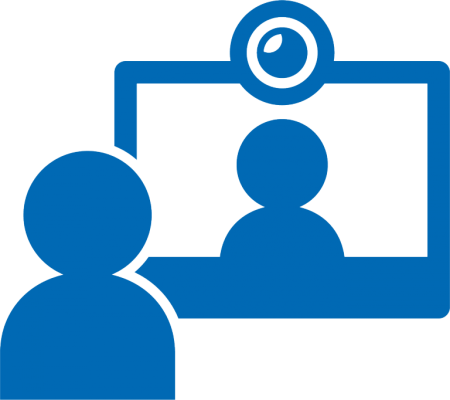 We can offer online consultations where appropriate via a video call to make it easier for you to attend.
Rather than travelling to your appointment, you will receive a text or email before your appointment and simply need to click to join. Find out more here.
---