We support children and adults with a learning disability and complex health needs in Northumberland and North Tyneside. This includes help with complex health conditions, communication, medication, problems eating and swallowing, making healthy lifestyle choices, everyday life skills and being more independent. We can also support you to see your doctor or dentist.
We have two offices at the Oxford Centre in Longbenton and Onecall based at Foundry House in Bedlington.
Our community learning disabilities team can see you either at our offices, in your home, school, college, work, a learning disability day service, a clinic or a GP surgery.
The team includes nurses, social workers and other professionals and offer services including:
Assessment and care co-ordination
Behaviour assessment and treatment
Positive Behaviour Support
Community nursing
Enhanced community services including crisis aversion and forensic behaviour
Epilepsy care
Mental health
Psychiatry
Psychology
Specialist occupational therapy
Speech therapy
Support for parents and families
Support for people with a learning disability and autism
In Northumberland only we can also provide adult social care including:
Care management
Independent supported living
In North Tyneside these services are provided by North Tyneside Council
If you use our healthcare services in childhood the same team will continue to care for you in adulthood. We also support other healthcare professionals who look after adults to improve support for young adults with a learning disability. Sometimes this includes helping you to prepare and plan for using health services for the first time.
You or anyone who knows you well such as a GP, social worker, friend or relative can get in touch with us if you think you need our help.
We support the health needs of children aged four and over and adults who have a:
Learning disability and complex health need
Statement of education
Education Healthcare Plan
Click here for further information about our referral criteria. Once your referral is accepted we will arrange to meet with you to discuss ways we can support you and then together agree a plan to best meet your needs.
You can contact us Monday to Thursday 8.30am to 5pm, and Fridays 8.30am to 4:30pm.
If you live in North Tyneside you can get in touch with your local learning disability team by calling 0191 293 3000
If you live in Northumberland call us via Onecall on 01670 536 400
Our offices
North Tyneside Community Learning Disability Team
Oxford Centre
West Farm Avenue
Long Benton
NE12 8LT
Northumberland Community Learning Disability Team
Onecall
Foundry House
The Oval
Bedlington
NE22 5HS
---
Video consultations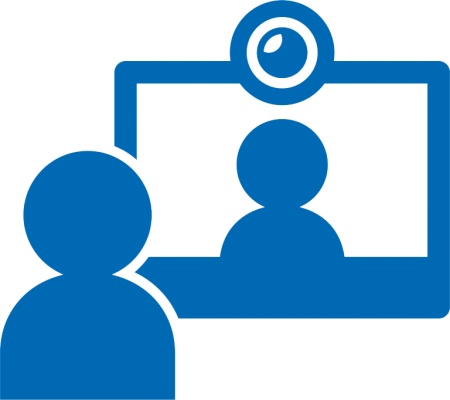 We can offer online consultations where appropriate via a video call to make it easier for you to attend.
Rather than travelling to your appointment, you will receive a text or email before your appointment and simply need to click to join. Find out more here.