Publish date: 25 August 2022
Kielder Marathon Weekend 2022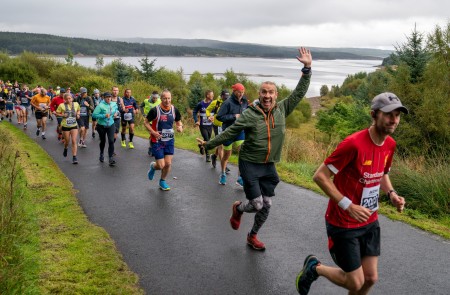 It's the 12th Kielder Marathon weekend this year and its taking place on 1 and 2 October. This is delivered by Events of the North in conjunction with the trust, Northumbrian Water, Active Northumberland and Northumberland County Council. It includes a marathon, half marathon, 10k, Junior events as well as run bike run.
Our Bright Charity is the official charity partner for the event so thanks to those taking part and the generosity of those donating, the event will ensure we can continue funding valuable initiatives to improve the experience of our patients as well as the wellbeing our staff.
For more information on the Northumberland Kielder Marathon Weekend 2022 visit www.kieldermarathon.com
What we are doing
As an NHS employer we are keen to support staff, patients and visitors to make healthier choices and that's why we are proud to be supporting the Kielder Marathon weekend.
We're keen to inspire people who've never run a race to enter or simply find out more about what it involves. We are delighted to have staff Kielder ambassadors for some of the events and you can find out more about their running stories including training plans and benefits of running below.
Meet our Kielder Ambassadors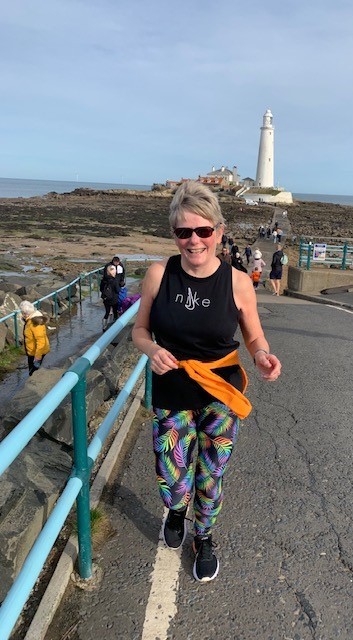 I started running in 2020, doing the Couch to 5K organised by the Health and Wellbeing Team. Now, I tend to run by myself and do my own thing – what works for me is being able to listen to my music, to switch off from everything else and enjoy the peacefulness of my surroundings.
I decided to take part in the 10K race at Kielder this year to witness the beauty of the route that I've heard so many people talk about, it'll be my first time but I'm up for the challenge of a 10K run and looking forward to the comradery of it all.
Having never done a race like this before, I would like to think that if anyone is interested they should push themselves and give it a go. If I can do it, anyone can! I know those who have ran this event before thoroughly enjoyed it and always recommend others take part as well.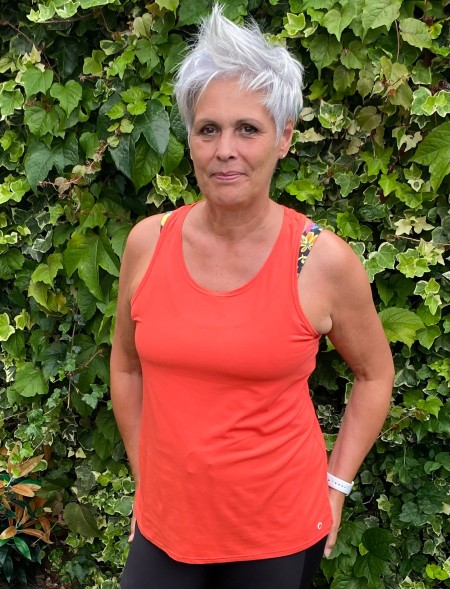 I retired from my substantive post with the community paediatric Speech and Language Therapy service after 16 years in March 2020, but remain part of the staff bank admin team and was delighted to win a place for Kielder weekender through the trust. I'm running the 10k. It will be my 3rd time.
The first time I ran it I think I spent more time taking pictures on the way round than actually concentrating on my run, it really is a beautiful course.
October is a good month for me to have something to aim for with my running as I try to keep going through the darker, colder months - it makes coming back to running in the spring easier! And actually, a good autumn run is lovely, as long as it's not as wet as last year's Kielder weekend. That was mad!
I didn't start running until I was fifty. I did GNR to raise funds for a charity that had helped a family member through addiction. I had no intention of keeping up yet here we are 10 years later. I'm not a competitive runner at all. I run purely for recreation and to keep fit.
I am part of a ladies running club but also run with friends outside of the club. I have recently supported a few of my less confident pals through Couch to 5K. You can't beat that transformation from gasping for breath after 1 minutes running in week 1 through to running none stop for 30 minutes in week 9.
Looking forward to following my colleague's journeys to Britain's Most Beautiful weekend of running.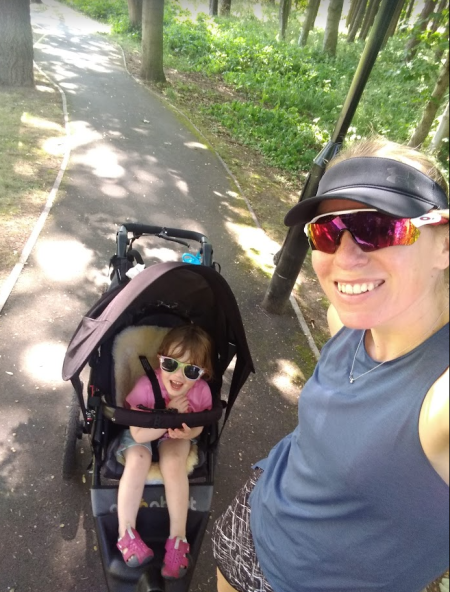 Last year I ran at Kielder for Bright, this time I'm just hoping for better weather!
I'm taking part really because the scenery is amazing, it's such a beautiful location to run around. Knowing I have a place is helping me get motivated to run regularly.
I hope to get a sense of achievement out of this half marathon, it's quite a hilly route! I'm also hoping to inspire my daughter to see exercise as a fun regular part of life, she's only 2 but enjoys coming out buggy running with me.
What I'm most looking forward to about running at Kielder is… well, the huge Sunday dinner I will consume afterwards! Last year I found there was lots of comradery and encouragement from other runners and I had some good chats and met some interesting people around me. I also aim to beat my personal best.
I have dodgy knees and flat feet so I've found that reducing how many days per week I run and replacing runs with strength training and helped me stay injury free. I try to run one 10K per week and a shorter 5K, then run a long 9-10 miles every two to three weeks.
Recently, I discovered trail running and found that I much prefer this to running around the houses, however I do tend to get lost and fall over in the mud on a regular basis.
Kielder is the ideal first running event, it's not super serious and there are runners of all levels taking part. The scenery will distract you from the pain and it takes place at the ideal time of year – not too hot or too cold – and you could even tie the race in with a visit or stay in the beautiful Kielder riverside lodges.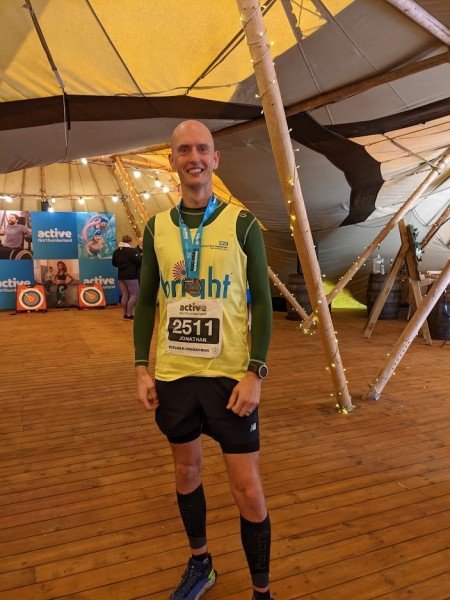 I'm a regular runner, starting around 2009, who loves to compete especially on trail runs.
Last year I ran the full marathon and came 6th place, but this year I'm running the half marathon and aiming for a top 20 finish and a time of around 1 hour 25 minutes.
I've noticed a massive improvement in my speed and enjoyment following joining a running club in the last two years. In the past, I'd completed some really long runs such as the Lakeland 100 mile and Sandstone ultramarathon which was 120 miles.
Mental toughness is the key, believing you can keep putting one foot in front of the other, if you believe you can do it – you will!
Any miles are good miles, however, and I encourage anyone thinking about entering Kielder to just do it!

I'll be taking part in Kielder for the first time this year, having picked it up from the young age of 7. As I got older I dipped in and out of it, but had really started to enjoy it again from around 2014.
I was looking for something to do locally that would challenge me and make me run more regularly as I believe it helps my mental health. I wish to gain back a bit of my former self and a sense of satisfaction and achievement, the biggest reason for me running the half marathon is to show my little girl that she can achieve anything with a bit of determination.
Don't compare yourself to others, just do what you can. Your pace. Your terms. Sleeping right, eating right and staying hydrated will also help you. You're stronger than you think!
I started running as a second year student midwife to try to balance out the demands of the course and as stress relief. I had my third baby in 2020 and started buggy running again to help with my mental health.
This is my first time doing the Kielder 10K, I like to challenge myself and although I hate running uphill I know this course has some pretty big inclines, making it an experience to say the least!
I hope to complete the course in a decent time and not have to just walk up those hills, being able to add another medal to my race collection would be amazing.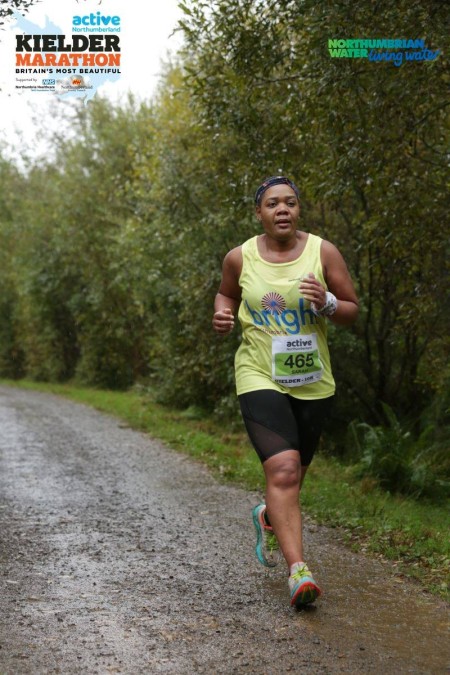 I started running properly during the first lockdown of the COVID Pandemic. I had started the Couch to 5K (C25K) back in 2017/18 when I knew that I needed to stay fit, but I had also started my Master's degree and clinical training as an APNP and the demands of the job and university work choked running out of my schedule - plus I had had a knee injury due to having started running without giving much thought about form and technique and warm up/cool down and rest days - so, I'd given up in week six.
Although I still had the demands of the job and university work, it was during the lockdown that I realised that I needed to be doing something, not only to enhance my physical health but also my mental health.
Northumbria Staff Wellbeing had advertised a C25K where, different people with different abilities and from all walks of life would run virtually and come together on Facebook to share experiences and encourage each other, as well as be in for a chance to win a prize weekly. That was a great incentive!

Ask the expert
We've invited specialists at the trust and Tony, one of the Kielder ever presents who has run every year since it started, to share their expertise and top tips for training in events like Kielder.
Hear from Tony Allen - an ever present, which means he has run every Kielder Marathon since it started, shares his running story below.